Samsung UE55D - UE-D Series 55" Edge-Lit LED Display

Picture-perfect Displays For A Perfect Videowall Solution.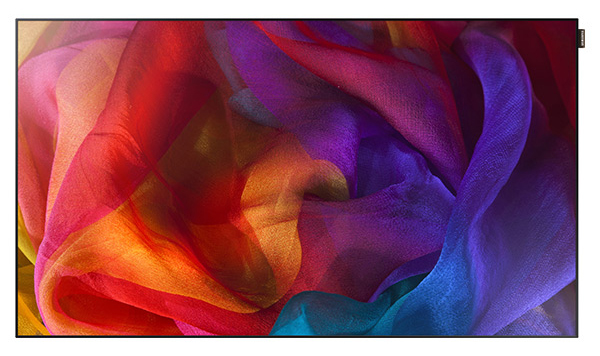 Overview:
The Samsung UE55D features a stylishly thin chassis with a slim 11mm bezel to bezel (BtB) spec, combined with an upgraded Samsung SMART Signage Platform. Create beautiful video walls in full HD with no PC, DVD or SBB required. Built-in WiFi allows for easy mobile control and increased Daisy Chain capability, while compatibility with our predecessor UE-C models provides versatile options.
Edge-Lit LED 55" Display with Narrow Bezels at 11mm BtB
Enhanced SSP System-on-Chip (SoC) Performance with Quad Core Processor
Stylish, Ultra-Slim 1.2" Chassis Design
PC-Less Videowalls and Built-in WiFi
Features
Edge-Lit LED Display
The edge-lit 55" display of the UE55D features full HD resolution to deliver sharp, detail-rich images and crisp type. The narrow bezels, at 11mm BtB, elegantly complement the visuals thanks to minimal distraction.
Enhanced SSP with Quad Core Processor
Experience 2x SoC performance thanks to SSP with a quad core processor. SSP is an integrated, open platform providing a powerful streamlined solution to reduce TCO in digital signage deployments through savings in hardware installation and operating costs.
Ultra-Slim 1.2" Chassis
A stylishly thin chassis helps to create sophisticated videowalls that can inspire your audience. The ultra-slim design also helps to simplify installation while meeting ADA compliance requirements.
PC-Less Videowalls
Create beautiful video walls with no PC, DVD or SBB. Use only USB with Display Port 1.2 Loop In/Out. Users can benefit from the simplified process and less equipment requirements for videowall installation and content playing.
Built-In Wi-Fi
Experience easy mobile control and increased Daisy Chain capability thanks to built-in Wi-Fi. Use AllShare® Cast (sold separately) over a Wi-Fi connection for simple content mirroring from a tablet or mobile phone to your display.
UE55C Compatibility
The UE55D features a new design that is compatible with our predecessor UE55C model to provide businesses with versatile options for videowall creation. Enjoy bezel, depth and VESA compatibility.
Specifications:
Samsung UE55D - UE-D Series 55" Edge-Lit LED Display Specifications
Display
Screen Size
55"
Panel Technology
120Hz E-LED BLU
Resolution
1920 x 1080 (16:9) Full HD
Brightness
450 nits
Contrast Ratio
4000:1
Viewing Angle (Horizontal/Vertical)
178° / 178°
Orientation
Landscape / Portrait
Response Time (G-to-G)
8ms
Connectivity
Input
Video: VGA (D-Sub 15 Pin), DVI-D, DisplayPort 1.2, Component/Composite, HDMI, Audio: Stereo Mini Jack
Output
Video: DisplayPort 1.2 (Loop-Out), Audio: Stereo Mini Jack
External Contro
RS232C (In/Out) thru Stereo Jack, RJ45
Power
Power Supply
AC 100 - 240 V~ (+/- 10 %), 50/60 Hz
Power Consumption (Typical/Max
130W / 154W
Power Consumption (Standby)
< 0.5W
Environmental Conditions
Operating Temperature
0°C - 40°C
Operating Humidity
10%~80%
Features
Key
LED Slim Videowall
Special
Hardware
Wi-Fi Module Embedded, SD Card Slot, Super Clear Coating, Temperature Sensor, Pivot Display, Clock Battery(80hrs Clock Keeping), Built in Speaker (10W x 2ch)
Software
Magic Clone( to USB), Auto Source Switching & Recovery, Lamp Error Detection, RS232C/RJ45 MDC,Plug and Play (DDC2B), PIP/PBP, Image Rotation, Button Lock, DP 1.2 Digital Daisy Chain(Supporting 2x2 UHD Resolution, HDCP Support), Smart Scheduling, Smart F/W update, Built In MagicInfo Player S2, Video Wall (15X15), Firmware Update by Network, LFD New Home Screen, PC-less VideoWall, Predefined Template for Vertical Usage, Multi Channel, Mobile Control, Event Schedule, Backup Player
Internal Media Player
Cortex-A9 1Ghz Quad Core, 1.5GB DDR3, 8GB FDM, USB 2.0, Linux OS
VESA Standard Wall Mount Interface
400 x 400mm
Dimensions
Product Dimensions (without stand)
48.1" x 27.3" x 1.2"
Packaging Dimensions
52.8" x 31.5" x 5.7"
Bezel Width
5.5mm
Weight
Product Weight
29.3 lbs.
Shipping Weight
38.6 lbs.
Service
Standard Warranty
3 Years On-Site (Parts / Labor / Backlight)
Accessories
Included
Quick Setup Guide, Warranty Card, Application CD, DP Cable, Power Cord, Remote Controller, Batteries
Optional Mount
WMN4270SD, WMN250MD, WMN4675MD (for Videowall W/M)
Optional Stand
STN-L4055AD, STN-L4655E
Optional Media Player
SBB-C, SBB-CD7, SBB-CQ7
Green Management
Emission Standard
EMC
ENERGY STAR® 6.0 Compliant
Yes
RoHS Compliant
Yes
Packaging Recyclability
Packing Materials Recyclable
Connectivity

RS232C In
RS232C Out
IR/Ambient Sensor In
Audio In
Audio Out
SD Card Slot
USB
DVI In
DisplayPort In
HDMI In
VGA In
DisplayPort Out
AV In
IR Out
RJ45 In
Compare:
Samsung UE-D Series Commercial LED LCD Displays
Model Number
UE46D
UE55D
Display
Screen Size
46"
55"
Panel Technology
120Hz E-LED BLU
120Hz E-LED BLU
Resolution
1920 x 1080 (16:9) Full HD
1920 x 1080 (16:9) Full HD
Brightness
450 nits
450 nits
Contrast Ratio
4000:1
4000:1
Viewing Angle (Horizontal/Vertical)
178° / 178°
178° / 178°
Orientation
Landscape / Portrait
Landscape / Portrait
Response Time (G-to-G)
8ms
8ms
Connectivity
Input
Video: VGA (D-Sub 15 Pin), DVI-D, DisplayPort 1.2, Component/Composite, HDMI, Audio: Stereo Mini Jack
Video: VGA (D-Sub 15 Pin), DVI-D, DisplayPort 1.2, Component/Composite, HDMI, Audio: Stereo Mini Jack
Output
Video: DisplayPort 1.2 (Loop-Out), Audio: Stereo Mini Jack
Video: DisplayPort 1.2 (Loop-Out), Audio: Stereo Mini Jack
External Contro
RS232C (In/Out) thru Stereo Jack, RJ45
RS232C (In/Out) thru Stereo Jack, RJ45
Power
Power Supply
AC 100 - 240 V~ (+/- 10 %), 50/60 Hz
AC 100 - 240 V~ (+/- 10 %), 50/60 Hz
Power Consumption (Typical/Max)
115W / 132W
130W / 154W
Power Consumption (Standby)
< 0.5W
< 0.5W
Environmental Conditions
Operating Temperature
0°C - 40°C
0°C - 40°C
Operating Humidity
10%~80%
10%~80%
Features
Key
LED Slim Videowall
LED Slim Videowall
Special
Hardware
Wi-Fi Module Embedded, SD Card Slot, Super Clear Coating, Temperature Sensor, Pivot Display, Clock Battery (80hrs Clock Keeping), Built in Speaker (10W x 2ch)
Wi-Fi Module Embedded, SD Card Slot, Super Clear Coating, Temperature Sensor, Pivot Display, Clock Battery(80hrs Clock Keeping), Built in Speaker (10W x 2ch)
Software
Magic Clone( to USB), Auto Source Switching & Recovery, Lamp Error Detection, RS232C/RJ45 MDC,Plug and Play (DDC2B), PIP/PBP, Image Rotation, Button Lock, DP 1.2 Digital Daisy Chain(Supporting 2x2 UHD Resolution, HDCP Support), Smart Scheduling, Smart F/W update, Built In MagicInfo Player S2, Video Wall (15X15), Firmware Update by Network, LFD New Home Screen, PC-less VideoWall, Predefined Template for Vertical Usage, Multi Channel, Mobile Control, Event Schedule, Backup Player
Magic Clone( to USB), Auto Source Switching & Recovery, Lamp Error Detection, RS232C/RJ45 MDC,Plug and Play (DDC2B), PIP/PBP, Image Rotation, Button Lock, DP 1.2 Digital Daisy Chain(Supporting 2x2 UHD Resolution, HDCP Support), Smart Scheduling, Smart F/W update, Built In MagicInfo Player S2, Video Wall (15X15), Firmware Update by Network, LFD New Home Screen, PC-less VideoWall, Predefined Template for Vertical Usage, Multi Channel, Mobile Control, Event Schedule, Backup Player
Internal Media Player
Cortex-A9 1Ghz Quad Core, 1.5GB DDR3, 8GB FDM, USB 2.0, Linux OS
Cortex-A9 1Ghz Quad Core, 1.5GB DDR3, 8GB FDM, USB 2.0, Linux OS
VESA Standard Wall Mount Interface
400 x 400mm
400 x 400mm
Dimensions
Product Dimensions (without stand)
40.6" 23.0" x 1.2"
48.1" x 27.3" x 1.2"
Packaging Dimensions
43.7" x 26.3" x 5.1"
52.8" x 31.5" x 5.7"
Bezel Width
5.5mm
5.5mm
Weight
Product Weight
22 lbs.
29.3 lbs.
Shipping Weight
28 lbs.
38.6 lbs.
Service
Standard Warranty
3 Years On-Site (Parts / Labor / Backlight)
3 Years On-Site (Parts / Labor / Backlight)
Accessories
Included
Quick Setup Guide, Warranty Card, Application CD, DP Cable, Power Cord, Remote Controller, Batteries
Quick Setup Guide, Warranty Card, Application CD, DP Cable, Power Cord, Remote Controller, Batteries
Optional Mount
WMN4270SD, WMN250MD, WMN4675MD (for Videowall W/M)
WMN4270SD, WMN250MD, WMN4675MD (for Videowall W/M)
Optional Stand
STN-L4055AD, STN-L4655E
STN-L4055AD, STN-L4655E
Optional Media Player
SBB-C, SBB-CD7, SBB-CQ7
SBB-C, SBB-CD7, SBB-CQ7
Green Management
Emission Standard
EMC
EMC
ENERGY STAR® 6.0 Compliant
Yes
Yes
RoHS Compliant
Yes
Yes
Packaging Recyclability
Packing Materials Recyclable
Packing Materials Recyclable
Connectivity

RS232C In
RS232C Out
IR/Ambient Sensor In
Audio In
Audio Out
SD Card Slot
USB
DVI In
DisplayPort In
HDMI In
VGA In
DisplayPort Out
AV In
IR Out
RJ45 In