Samsung UD46D-P - UD-D Series 46" Direct-Lit LED Display

Put More Image And Less Bezel In Your Videowalls.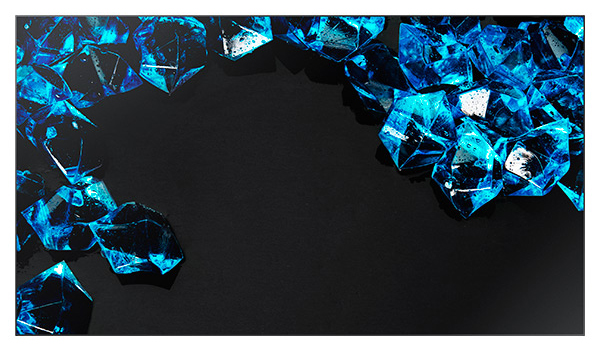 Overview:
The Samsung UD46D-P advances LCD video wall technology by reducing the bezel-to-bezel (BtB) spec from 5.5mm to 3.5mm compared to predecessor models. Along with factory-tuned color calibration for consistency across multiple displays and our embedded SMART Signage Platform (SSP), you can efficiently achieve seamless matrices, while LED backlighting reduces power consumption in large installations.
Ultra-Narrow Bezel Width at 3.5mm BtB for Virtually Seamless Video Walls
Embedded SSP System-on-Chip (SoC) Technology Can Eliminate the Need for External Media Players
Factory-Tuned for Color Uniformity Right Out of the Box
Daisy Chain Up to 4 Displays Over Display Port 1.2 to Achieve 4K x 2K UHD Resolution
Features
3.5mm BtB Ultra-Narrow Bezel Width
The UD46D-P features incredibly thin bezels at a mere 2.3mm (L/T) and 1.2mm (R/B) - 3.5mm bezel-to-bezel - shaving more than 33% off its predecessor model. Create virtually seamless video walls for a more elegant and impactful delivery of your message.
Samsung SMART Signage Platform (SSP)
Embedded SSP SoC technology helps to reduce the cost and complexity of installation and maintenance by streamlining hardware and software requirements. As an integrated, open platform, you can eliminate the need for external media players to display content across video walls.
Color Calibration
Samsung factory color calibration helps to minimize color difference among multiple LFDs. Factory-tuned for brightness, color temperature and gamma, you can experience color uniformity right out of the box for consistent video wall messaging.
Advanced Color Management (ACM)
The ACM solution provides a user-friendly interface to implement customized and detailed color adjustments. Control luminance, temperature and gamma through auto calibration, manual calibration and duplication to achieve the perfect display for your business.
Video Wall
Create video walls up to 10x10 for large, impactful messaging. Easily connect multiple displays in an elegant fashion thanks to the streamlined hardware and software requirements of the embedded SSP SoC technology and the ultra-narrow bezels of the UD46D-P.
Achieve UHD Resolution
Daisy Chain up to 4 displays over Display Port 1.2 (DP 1.2 - Loop-Out) to achieve 4K x 2K Ultra High Definition (UHD - 3840x2160) resolution. Display exceptional content in a sophisticated manner for an enhanced customer experience.
Image Rotation
Enjoy convenient content creation and management. Create your desired content on a single display and turn on Image Rotation to transform portrait orientation into horizontal and vice versa when you connect and split-screen multiple displays in a video wall matrix.
Magic Clone
Save installation time for multiple displays with Magic Clone. Simply enter your display settings the first time, save the setting information to a USB or external HDD and plug in the external device to the other sets to install them equally.
UD-A/UD-C/UD-D Compatibility
If you are replacing our previous UD-A or UD-C Series 5.5mm-bezel display models with the 3.5mm-bezel UD46D-P in a video wall matrix, we can provide compatible accessories including decoration stands and Multi-Information Display (MID) stands for the upgrade.
Specifications:
Samsung UD46D-P - UD-D Series 46" Direct-Lit LED Display Specifications
Display
Screen Size
46"
Contrast Ratio (Typical)
3500:1
Panel Technology
60Hz D-LED
Viewing Angle (H/V)
178°/178°
Resolution
1920 x 1080 (16:9)
Response Time
8ms
Brightness
700 nits
Connectivity
Input
VGA (D-sub 15 pin), DVI-D, Display Port 1.2, 2 HDMI, Component/Composite, Stereo mini Jack
Output
Display Port 1.2(Loop-out), Stereo mini Jack
External Control
RS232C(In/Out), RJ45
Sensor
Detachable type (IR, Ambient)
Power
Powers Supply
AC 100 - 240 V~ (+/- 10 %), 50/60 Hz
Power Consumption (Typical/Max)
125W / 176W
Power Consumption (Standby)
< 0.5W
Environmental Conditions
Operating Temperature
32ºF ~ 104ºF
Operating Humidity
10% ~ 80%
Features
Special
SD Card Slot, ACM Support(Advanced Color Management), Magic Clone(to USB), Auto Source Switching & Recovery, Lamp Error Detection, Anti Retention(Haze 44%), Temperature Sensor, RS232C/RJ45 MDC,Plug and Play (DDC2B), PIP/PBP, Video Wall(10x10), Pivot Display, Image Rotation, Button Lock, DP 1.2 Digital Daisy Chain(Supporting 2x2 UHD Resolution, HDCP Support), Smart Scheduling, Smart F/W update, Clock Battery(80hrs Clock Keeping),Built In MagicInfo
Video Wall/Thin Bezel
Yes
SMART Signage Platform
Yes
Media Player Type
Cortex-A9 1GHz Dual Core, 1GB DDR3, 8GB FDM, USB 2.0, Linux OS
Vesa Standard Wall-Mount Interface
600 x 400mm
Dimensions
Without Stand (W x H x D)
40.2" x 22.7" x 3.8"
Packaging (W x H x D)
49.4" x 31.4" x 14.0"
Bezel Width
2.3mm (U/L), 1.2mm (R/B)
Weight
Set
39.8 lb.
Package
49.5 lb.
Service
Standard Warranty
3 Years On-Site (Parts / Labor / Backlight )
Accessories
Included In Box
Quick Setup Guide, Warranty Card, Application CD, DP cable, Power Cord, Remote Controller, Batteries
Optional Wall Mount
WMN-4675MD (Video Wall Mount)
Optional Stand
MID-UD46DS (Video Wall Stand)
Optional Media Player
SBB-CF7, SBB-DA
Green Management
Energy Star Certified
Yes
ROHS Compliant
Yes
Emission Standard
EMC
Packaging Recyclability
Packing Materials Recyclable
Compare:
Samsung UD-D Series Commercial LED LCD Displays
Model Number
UD46D-P
UD55D
Display
Screen Size
46"
55"
Panel Technology
60Hz D-LED DID
60Hz D-LED DID
Resolution
1920 x 1080 (16:9)
1920 x 1080 (16:9)
Brightness
700 nits
700 nits
Contrast Ratio
3500:1
3500:1
Viewing Angle (Horizontal/Vertical)
178° / 178°
178° / 178°
Orientation
Landscape / Portrait
Landscape / Portrait
Response Time (G-to-G)
8ms
8ms
Connectivity
Input
Video: VGA (D-Sub 15 Pin), DVI-D, DisplayPort 1.2, Component/Composite, 2 HDMI, Audio: Stereo Mini Jack
Video: VGA (D-Sub 15 Pin), DVI-D, DisplayPort 1.2, Component/Composite, 2 HDMI, Audio: Stereo Mini Jack
Output
Video: DisplayPort 1.2 (Loop Out), Audio: Stereo Mini Jack
Video: DisplayPort 1.2 (Loop Out), Audio: Stereo Mini Jack
External Control
RS232C (In/Out), RJ45
RS232C (In/Out), RJ45
External Sensor
Detachable Type (IR, Ambient)
Detachable Type (IR, Ambient)
Power
Power Supply
AC 100 - 240 V~ (+/- 10 %), 50/60 Hz
AC 100 - 240 V~ (+/- 10 %), 50/60 Hz
Power Consumption (Typical / Max)
125W / 176W
175W / 209W
Power Consumption (Standby)
< 0.5W
< 0.5W
Environmental Conditions
Operating Temperature
0°C - 40°C
0°C - 40°C
Operating Humidity
10%~80%
10%~80%
Special
SD Card Slot, ACM Support(Advanced Color Management), Magic Clone(to USB), Auto Source Switching & Recovery, Lamp Error Detection, Anti Retention(Haze 44%), Temperature Sensor, RS232C/RJ45 MDC,Plug and Play (DDC2B), PIP/PBP, Video Wall(10x10), Pivot Display, Image Rotation, Button Lock, DP 1.2 Digital Daisy Chain(Supporting 2x2 UHD Resolution, HDCP Support), Smart Scheduling, Smart F/W update, Clock Battery(80hrs Clock Keeping),Built In MagicInfo
Advanced Color Management, Magic Clone, Auto Source Switching & Recovery, Lamp Error Detection, Anti Retention (Haze 44%), Temperature Sensor, RS232C/RJ45 MDC, Plug and Play (DDC2B), PIP/PBP, Videowall (10x10), Pivot Display, Image Rotation, Button Lock, DP 1.2 Digital Daisy Chain (Supporting 2x2 UHD Resolution, HDCP Support), Smart Scheduling, Smart F/W update, Clock Battery (80hrs Clock Keeping), Built In MagicInfo (Lite, Premium-S, VideoWall-S)
Internal Media Player
Cortex-A9 1GHz Quad Core, 1.5GB DDR3, 8GB FDM, USB 2.0, Linux OS
Cortex-A9 1GHz Dual Core, 1GB DDR3, 8GB FDM, USB 2.0, Linux OS
VESA Standard Wall Mount Interface
600 x 400mm
600 x 400mm
Dimensions
Product Dimensions (without stand)
40.2" x 22.7" x 3.8"
47.8" x 26.9" x 3.8"
Packaging Dimensions
49.4" x 31.4" x 14.0"
57.1" x 15.2" x 35.6"
Bezel Width
2.3mm (U/L), 1.2mm (R/B)
2.3mm (U/L), 1.2mm (R/B)
Weight
Product Weight
39.8 lbs.
51.4 lbs.
Shipping Weight
49.5 lbs.
81.4 lbs.
Service
Standard Warranty
3 Years On-Site (Parts / Labor / Backlight)
3 Years On-Site (Parts / Labor / Backlight)
Accessories
Included
Quick Setup Guide, Warranty Card, Application CD, DP cable, Power Cord, Remote Controller, Batteries
Quick Setup Guide, Warranty Card, Application CD, DP Cable, Power Cord, Remote Controller, Batteries
Optional Mount
WMN-4675MD (Videowall Mount)
WMN-4675MD (Videowall Mount)
Optional Stand
MID-UD46DS (Videowall Stand)
MID-UD55DS (Videowall Stand)
Optional Media Player
SBB-CF7, SBB-DA
SBB-CF7, SBB-DA
Green Management
Emission Standard
EMC
EMC
ENERGY STAR® 6.0 Compliant
Yes
Yes
RoHS Compliant
Yes
Yes
Packaging Recyclability
Packing Materials Recyclable
Packing Materials Recyclable
Connectivity

RS232C Out
RS232C In
SD Card (UD46D-P Only)
RJ45 In
IR Out
Control In
DisplayPort In
HDMI In 1
HDMI In 2
DisplayPort Out (Loop Out)
DVI In (Magic Info)
RGB In
AV/Component In
Audio In/Out
USB