Samsung UD46C-B - UD-C-B Series 46" Direct-Lit LED Display

Thinner Bezels. Larger Impact.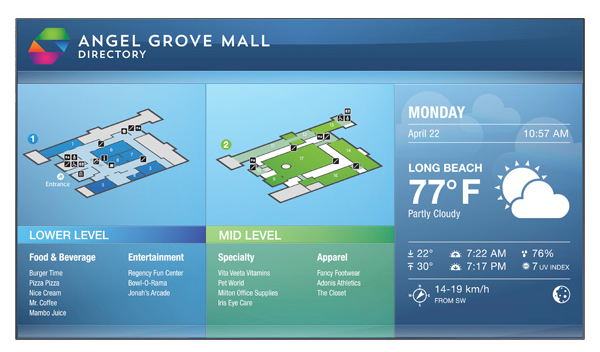 Overview:
Samsung's UD-C Series delivers sharp, bright, impactful messages with ultra high-image quality and easy content sharing across multiple devices. Factory tuned with advanced color calibration, enjoy optimal uniformity and an impressive picture on the 46" display. And 1920 x 1080p full HD resolution with brightness levels of 450 nits enlightens a clear, vibrant video wall for your messaging needs.
Advanced Color Calibration
DisplayPort 1.2
Sharp, Bright, Impactful
Direct-Lit LED
Features
Advanced Color Calibration
UD-C Series displays are factory tuned for Brightness, Color Temperature and Gamma. They deliver optimal uniformity and impressive images right out of the box.
Sharp, Bright, Impactful
Full HD 1920 x 1080 resolution and brightness levels of 450 nits ensure a clear, vibrant video wall that's easy to look at and hard to ignore.
Direct-Lit LED
Direct-lit LED technology with a new backlight dimming solution allows the UD-C Series display to achieve deeper blacks, higher contrast ratio of 3500:1, and power savings of up to 30%.
Specifications:
Samsung UD46C - UD-C Series 46" Direct-Lit LED Display
Display
Screen Size
46" Direct-lit LED Backlit LCD
Panel Technology
S-PVA (60Hz)
Resolution
1920 x 1080 Full HD
Brightness
450 nits
Contrast Ratio (Typical)
3500:1
Viewing Angle (Horizontal/Vertical)
178˚/178˚
Orientation
Landscape/Portrait
Response Time
6.5ms
Connectivity
Input
VGA (D-sub 15 pin), DVI-D, Composite, HDMI (x2), Component, Stereo Mini Jack
Output
DVI-D (Loop out), Stereo Mini Jack
External Control
RS232C (in/out), RJ45
Response Time
Detachable Type (IR, Ambient)
Power
Power Supply
AC 100 - 240 V~ (+/- 10 %), 50/60 Hz
Power Consumption (Typical/Max)
113W / 130W
Power Consumption (Standby)
< 0.5W
Environmental Conditions
Operating Temperature
0°C - 40°C
Operating Humidity
10%~80%
Features
Special
Auto Source Switchinig & Recovery, Lamp Error Detection, Anti Retention (Haze 11%), Temperature Sensor, RS232C/RJ45 MDC, Plug and Play (DDC2B), PIP/PBP, Videowall (10x10), Pivot Display, Button Lock, DVI Digital Daisy Chain, Smart Scheduling, Smart F/W update, Clock Battery (80 hrs. Clock Keeping)
Tuner
N/A
Internal Media Player
N/A
VESA Standard Wall Mount Interface
600 x 400mm
Dimensions
Product Dimensions (without stand)
40.3" x 22.8" x 3.8"
Packaging Dimensions
49.4" x 31.4" x 14.0"
Bezel Width
3.7mm (U/L), 2.0mm (R/B)
Weight
Product Weight
40 lbs.
Shipping Weight
68.6 lbs.
Service
Standard Warranty
3 Years On-Site (Parts / Labor / Backlight)
Accessories
Included
Quick Setup Guide, Warranty Card, Application CD, D-sub Cable, Power Cord, Remote Controller, Batteries
Optional Mount
WMN-4675MD
Optional Stand
MID-UD46FS
Optional Media Player
SBB-C, SBB-CD7, SBB-CQ7
Green Management
Emission Standard
EMC
ENERGY STAR® 6.0 Compliant
Yes
RoHS Compliant
Yes
Packaging Recyclability
Packing Materials Recyclable
Connectivity

RS232C Out
RS232C In
Audio Out
IR Out
IR/Ambient Sensor In
RJ45 In
Component AV In
Audio In
VGA In
HDMI In 1
HDMI In 2
DVI In (MagicInfo)
DVI Out (Loopout)
Compare:
Samsung UDC Series Commercial LED LCD Displays
Model Number
UD46C
UD55C
UD46C-B
UD55C-B
Display
Screen Size
46" Direct-lit LED Backlit LCD
55" Direct-lit LED Backlit LCD
46" Direct-lit LED Backlit LCD
55"
Panel Technology
S-PVA (60Hz)
S-PVA (60Hz)
S-PVA (60Hz)
60Hz (Direct-LED Backlight)
Resolution
1920 x 1080 Full HD
1920 x 1080 Full HD
1920 x 1080 Full HD
1920 x 1080
Brightness
700 nits
700 nits
450 nits
500 nits
Contrast Ratio (Typical)
3500:1
3500:1
3500:1
3,500:1
Viewing Angle (Horizontal/Vertical)
178°/178°
178°/178°
178°/178°
178°/178°
Orientation
Landscape/Portrait
Landscape/Portrait
Landscape/Portrait
Landscape/Portrait
Response Time
8ms
8ms
6.5ms
8ms
Connectivity
Input
VGA (D-sub 15 pin), DVI-D, DisplayPort 1.2, Composite, HDMI (x2), Component, Stereo Mini Jack
VGA (D-sub 15 pin), DVI-D, DisplayPort 1.2, Composite, HDMI (x2), Component, Stereo Mini Jack
VGA (D-sub 15 pin), DVI-D, Composite, HDMI (x2), Component, Stereo Mini Jack
VGA (D-sub 15 pin), DVI-D, Composite, HDMI (x2), Component, Stereo Mini Jack
Output
DisplayPort 1.2, Stereo Mini Jack
DisplayPort 1.2, Stereo Mini Jack
DVI-D (Loop out), Stereo Mini Jack
DVI-D (Loop out), Stereo Mini Jack
External Control
RS232C (In/Out), RJ45
RS232C (In/Out), RJ45
RS232C (in/out), RJ45
RS232C (in/out), RJ45
Response Time
Detachable Type (IR, Ambient)
Detachable Type (IR, Ambient)
Detachable Type (IR, Ambient)
Detachable Type (IR, Ambient)
Power
Power Supply
AC 100 - 240 V~ (+/- 10 %), 50/60 Hz
AC 100 - 240 V~ (+/- 10 %), 50/60 Hz
AC 100 - 240 V~ (+/- 10 %), 50/60 Hz
AC 100 - 240 V~ (+/- 10 %), 50/60 Hz
Power Consumption (Typical/Max)
120W / 165W
160W / 220W
113W / 130W
150W / 165W
Power Consumption (Standby)
< 0.5W
< 0.5W
< 0.5W
< 0.5W
Environmental Conditions
Operating Temperature
0°C - 40°C
0°C - 40°C
0°C - 40°C
0°C - 40°C
Operating Humidity
10%~80%
10%~80%
10%~80%
10%~80%
Features
Special
Advanced Color Management, Magic Clone, Auto Source Switching & Recovery, Lamp Error Detection, Anti Retention (Haze 44%), Temperature Sensor, RS232C/RJ45 MDC, Plug and Play (DDC2B), PIP/PBP, Videowall (10x10), Pivot Display, Image Rotation, Button Lock, DP 1.2 Digital Daisy Chain (Supporting 2x2 UHD Resolution, HDCP Support), Smart Scheduling, Smart F/W update, Clock Battery (80 hrs. Clock Keeping), Built-in MagicInfo (Lite, Premium-S, VideoWall-S)
Advanced Color Management, Magic Clone, Auto Source Switching & Recovery, Lamp Error Detection, Anti Retention (Haze 44%), Temperature Sensor, RS232C/RJ45 MDC, Plug and Play (DDC2B), PIP/PBP, Videowall (10x10), Pivot Display, Image Rotation, Button Lock, DP 1.2 Digital Daisy Chain (Supporting 2x2 UHD Resolution, HDCP Support), Smart Scheduling, Smart F/W update, Clock Battery (80 hrs. Clock Keeping), Built-in MagicInfo (Lite, Premium-S, VideoWall-S)
Auto Source Switchinig & Recovery, Lamp Error Detection, Anti Retention (Haze 11%), Temperature Sensor, RS232C/RJ45 MDC, Plug and Play (DDC2B), PIP/PBP, Videowall (10x10), Pivot Display, Button Lock, DVI Digital Daisy Chain, Smart Scheduling, Smart F/W update, Clock Battery (80 hrs. Clock Keeping)
ACM Support (Advanced Color Management), Auto Source Switching & Recovery, Lamp Error Detection, Anti Retention, Temperature Sensor, RS232C/RJ45 MDC,Plug and Play (DDC2B), PIP/PBP, Videowall (10x10), Pivot Display, Button Lock, DP 1.2 Digital Daisy Chain (Supporting 2x2 UHD Resolution, HDCP Support), Smart Scheduling, Smart F/W update
Tuner
N/A
N/A
N/A
N/A
Internal Media Player
Cortex-A9 1GHz Dual Core, 1GB DDR3, 8GB FDM, USB (2)
Cortex-A9 1GHz Dual Core, 1GB DDR3, 8GB FDM, USB (2)
N/A
N/A
VESA Standard Wall Mount Interface
600 x 400mm
600 x 400mm
600 x 400mm
600 x 400mm
Dimensions
Product Dimensions (without stand)
40.3" x 22.8" x 3.8"
47.8" x 27" x 3.8"
40.3" x 22.8" x 3.8"
47.8" x 27.0" x 4.5"
Packaging Dimensions
49.4" x 31.4" x 14.0"
57.1" x 35.6" x 15.2"
49.4" x 31.4" x 14.0"
56.7" x 34.3" x 14.8"
Bezel Width
3.5mm (U/L), 1.8mm (R/B)
3.7mm (U/L), 1.8mm (R/B)
3.7mm (U/L), 2.0mm (R/B)
3.7mm(U/L), 1.8mm(R/B)
Weight
Product Weight
40 lbs.
52.8 lbs.
40 lbs.
53.5 lbs.
Shipping Weight
77 lbs.
91.5 lbs.
68.6 lbs.
77.2 lbs.
Service
Standard Warranty
3 Years On-Site (Parts / Labor / Backlight)
3 Years On-Site (Parts / Labor / Backlight)
3 Years On-Site (Parts / Labor / Backlight)
3 Years On-Site (Parts / Labor / Backlight)
Accessories
Included
Quick Setup Guide, Warranty Card, Application CD, D-sub Cable, Power Cord, Remote Controller, Batteries
Quick Setup Guide, Warranty Card, Application CD, D-sub Cable, Power Cord, Remote Controller, Batteries
Quick Setup Guide, Warranty Card, Application CD, D-sub Cable, Power Cord, Remote Controller, Batteries
Quick Setup Guide, Warranty Card, Application CD, D-Sub cable, Power Cord, Remote Controller, Batteries
Optional Mount
WMN-4675MD
WMN-4675MD
WMN-4675MD
WMN-4675MD
Optional Stand
MID-UD46FS
MID-UD55FS
MID-UD46FS
MID-UD55FS
Optional Media Player
SBB-C, SBB-CD7, SBB-CQ7
SBB-C, SBB-CD7, SBB-CQ7
SBB-C, SBB-CD7, SBB-CQ7
SBB-C, SBB-CD7, SBB-CQ7
Green Management
Emission Standard
EMC
EMC
EMC
EMC
ENERGY STAR® 6.0 Compliant
Yes
Yes
Yes
Yes
RoHS Compliant
Yes
Yes
Yes
Yes
Packaging Recyclability
Packing Materials Recyclable
Packing Materials Recyclable
Packing Materials Recyclable
Packing Materials Recyclable
Connectivity

RS232C Out
RS232C In
USB
IR Out
Control In
DisplayPort In
HDMI In 1
HDMI In 2
DisplayPort Out
DVI In
RGB In
AV/Comp
Audio In/Out
RJ45 In

Connectivity


UD46C-B and UD55C-B Only

RS232C Out
RS232C In
Audio Out
IR Out
IR/Ambient Sensor In
RJ45 In
Component AV In
Audio In
VGA In
HDMI In 1
HDMI In 2
DVI In (MagicInfo)
DVI Out (Loopout)