Samsung 40in. SMART Signage TV - RM40D

The All-in-one Solution For Digital Signage, Designed To Grow Small Business.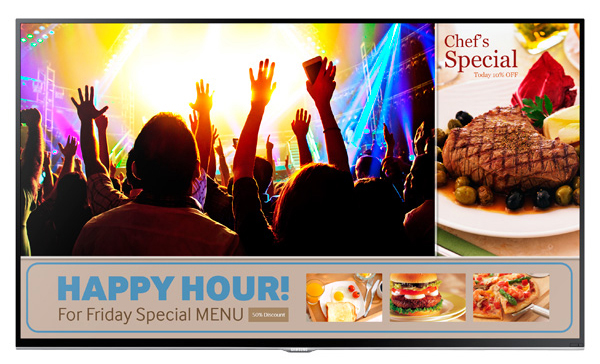 Overview:
Take your business to the next level with our all-in-one solution for TV & digital signage. The Samsung SMART Signage TV gives you a 40in. or 48in. high definition, professional grade TV, along with the capability for so much more. With the included software, you can add your own promotional content, and control it all from your PC or mobile phone. It's a solution designed to make your business better. It's a solution designed for you. Create New Opportunities.
Complete with Full HD Display, Mounting Hardware and Software
200+ Templates Included to Create Your Own Content
Manage Content with Your PC or Mobile Device
A Professional Display Backed by a 3-Year Onsite Warranty and Dedicated B2B Support #1-866-SAM-4BIZ
Features
All-in-One TV and Digital Signage
Entertain your customers with live TV, and promote your business with advertising content, on SSTV. With 200+ templates included, you can create your own signage or split-screen content to tailor your brand, modernize décor and deliver new and improved customer experiences.
Everything's Included in the Box
The RM40D comes with everything you need to deliver digital signage and TV content right out of the box. Complete with a Full HD display, table stand, wall mounting hardware and content creation software, you can get your signage up and running quickly to enhance your promotional messages.
Easy to Use, Easy to Manage
Included PC software and embedded Wi-Fi allows for easy, wireless content management with no need for an external router to wirelessly connect the display to a laptop or mobile device. You can also load content via USB, or publish content via a mobile app designed for various mobile devices.
Portrait or Landscape Mode
Enjoy the ability to utilize a portrait or landscape configuration. Portrait mode delivers impactful signage. Landscape mode delivers impactful signage, plus multimedia content. The versatility provides your business with the flexibility to adapt to your customers' needs.
Durable, Reliable, Commercial Solution
The RM40D is a professional-grade LCD TV designed for 16/7 operation to align with typical business hours. A 3-year onsite warranty secures your investment in your business. Discover a commercial-grade all-in-one TV and digital signage solution that is built to last.
Dedicated B2B Support# 1-866-SAM-4BIZ
Samsung is dedicated to supporting your business with quality products. That's why support for SSTV includes a dedicated B2B# when you call 1-866-SAM-4BIZ, so you can get the support your business deserves. With this added benefit, you get a convenient solution that you can rely on.
Specifications:
Samsung 40in. SMART Signage TV - RM40D Specifications
Display
Screen Size
40"
Panel Technology
60Hz LED BLU
Resolution
1920 x 1080 (16:9)
Brightness
350 nits
Contrast Ratio
5000:1
Viewing Angle (Horizontal/Vertical)
178º / 178º
Orientation
Landscape / Portrait
Response Time (G-to-G)
8ms
Connectivity
Input
HDMI (3), Composite
Output
Stereo mini Jack
External Control
RS232C(In) thru stereo jack
Power
Power Supply
AC 100 - 240 V~ (+/- 10 %), 50/60 Hz
Power Consumption (Typical/Max)
56W / 98W
Power Consumption (Standby)
< 0.5W
Environmental Conditions
Operating Temperature
0°C - 40°C
Humidity
10%~80%
Features
Special
MagicInfo E, Built in Speaker (10W + 10W), Embedded Wi-Fi
VESA Standard Wall Mount Interface
200 x 200mm
Turner
Yes
Dimensions
Product Dimensions (w/o stand)
35.7" x 21.0" x 2.6"
Product Dimensions (with stand)
35.7" x 22.8" x 7.7"
Packaging Dimensions (WxHxD)
41.0" x 23.6" x 4.7"
Bezel Width
9.5mm (Bottom 15.0mm)
Weight
Product Weight (w/o stand)
16.7 lbs.
Product Weight (with stand)
18.3 lbs
Shipping Weight
24.6 lbs.
Service
Standard Warranty
3 Years On-Site (Parts / Labor / Backlight)
Accessories
Included
Stand, Wall Mount, Quick Setup Guide, Warranty Card, Power Cord, Remote Controller, Batteries, USB Thumb Drive (MagicInfo Express Authoring S/W)
Green Management
Emission Standard
EMC
ENERGY STAR® 6.0 Compliant
Yes
RoHS Compliant
Yes
Packaging Recyclability
Packing Materials Recyclable
Connectivity

HDMI In 3
Ex-Link
Audio Out
Ant In/Air Cable
HDMI In 2 (DVI)
HDMI In 1
USB
Video
Audio Left
Audio Right
Compare:
Samsung SMART Signage TV Specifications
Display
Model Number
RM40D
RM48D
Screen Size
40"
48in.
Panel Technology
60Hz LED BLU
60Hz LED BLU
Resolution
1920 x 1080 (16:9)
1920 x 1080 (16:9)
Brightness
350 nits
350 nits
Contrast Ratio
5000:1
5000:1
Viewing Angle (Horizontal/Vertical)
178º / 178º
178º / 178º
Orientation
Landscape / Portrait
Landscape / Portrait
Response Time (G-to-G)
8ms
8ms
Connectivity
Input
HDMI (3), Composite
HDMI (3), Composite
Output
Stereo mini Jack
Stereo mini Jack
External Control
RS232C(In) thru stereo jack
RS232C(In) thru stereo jack
Power
Power Supply
AC 100 - 240 V~ (+/- 10 %), 50/60 Hz
AC 100 - 240 V~ (+/- 10 %), 50/60 Hz
Power Consumption (Typical/Max)
56W / 98W
69W / 114W
Power Consumption (Standby)
< 0.5W
< 0.5W
Environmental Conditions
Operating Temperature
0°C - 40°C
0°C - 40°C
Humidity
10%~80%
10%~80%
Features
Special
MagicInfo E, Built in Speaker (10W + 10W), Embedded Wi-Fi
MagicInfo E, Built in Speaker (10W + 10W), Embedded Wi-Fi
VESA Standard Wall Mount Interface
200 x 200mm
400 x 400mm
Turner
Yes
Yes
Dimensions
Product Dimensions (w/o stand)
35.7" x 21.0" x 2.6"
42.3" x 24.7" x 2.6"
Product Dimensions (with stand)
35.7" x 22.8" x 7.7"
42.3" x 26.5" x 8.0"
Packaging Dimensions (WxHxD)
41.0" x 23.6" x 4.7"
47.8" x 28.0" x 5.2"
Bezel Width
9.5mm (Bottom 15.0mm)
9.5mm (Bottom 15.0mm)
Weight
Product Weight (w/o stand)
16.7 lbs.
24.4 lbs.
Product Weight (with stand)
18.3 lbs
26.4 lbs.
Shipping Weight
24.6 lbs.
37.6 lbs.
Service
Standard Warranty
3 Years On-Site (Parts / Labor / Backlight)
3 Years On-Site (Parts / Labor / Backlight)
Accessories
Included
Stand, Wall Mount, Quick Setup Guide, Warranty Card, Power Cord, Remote Controller, Batteries, USB Thumb Drive (MagicInfo Express Authoring S/W)
Stand, Wall Mount, Quick Setup Guide, Warranty Card, Power Cord, Remote Controller, Batteries, USB Thumb Drive (MagicInfo Express Authoring S/W)
Green Management
Emission Standard
EMC
EMC
ENERGY STAR® 6.0 Compliant
Yes
Yes
RoHS Compliant
Yes
Yes
Packaging Recyclability
Packing Materials Recyclable
Packing Materials Recyclable
Connectivity

HDMI In 3
Ex-Link
Audio Out
Ant In/Air Cable
HDMI In 2 (DVI)
HDMI In 1
USB
Video
Audio Left
Audio Right