Samsung LFD HDBaseT Receiver PIM-HDBT

Enables All-in-One Connectivity Between HD Video Sources and Remote Displays.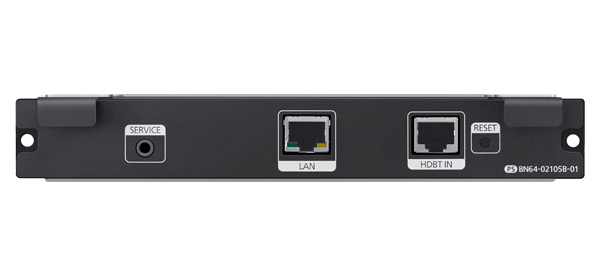 Samsung Products
Samsung Digital Signage Accessories
LFD HDBaseT Receiver PIM-HDBT
#SBB-HRCA/ZA
Our Price: $158.00
More pricing below, click here!
Overview:
Samsung's PIM-HDBT LFD HDBaseT plug-in receiver helps to make LFD installations significantly simpler and less costly. Working with Samsung's LFDs which support the PIM module, the receiver enables all-in-one connectivity between HD video sources and remote displays through a single cable, delivering uncompressed HD video, audio, Ethernet and control signals.
Streamlines LFD Installations
Enables All-in-One Connectivity Between HD Video Sources and Remote Displays
Works through a Single Cable
Delivers Uncompressed HD Video, Audio, Ethernet and Control Signals
Key Features
Long-Distance Video Delivery
The PIM-HDBT supports cable runs up to 328 feet (100m) with a single hop and no loss in picture quality.
Reduced Installation Cost
Samsung's PIM-HDBT controls signals through a single LAN cable, so there's no need to install and manage various cables. And the long-distance video delivery eliminates having to add extra amplifier equipment.
Easy Installation
The PIM-HDBT plug-in module allows for installation ease with no additional cost burden.
Global Standard
Samsung's PIM-HDBT is based on HDBaseT technology, a global standard for installing digital displays in a wide range of environments, from conference rooms and boardrooms to venues in government and education.
Samsung LFD Compatbility
The PIM-HDBT is compatible with many Samsung LFDs, including the PE-C Series, LE-C Series, as well as the MD65, ED65C, ED75C, ME75C, ME95C, ED65D, ED75D, DM65D, DM75D, DH40D, DH48D and DH55D.
Specifications:
Samsung LFD HDBaseT Receiver PIM-HDBT Specifications
Input
Input
HDBase-T
Input Spec
Sending Data: Receiving TX signals such as Video and Control
Output
OPS 80 PIN (PIM Supported)
Output
Output

PIM Supported → OPS 80 PIN
PIM Not Supported → DP Out (DP to DVI connection needed)

Output Specs

Data Sending → 10.2Gbps
3D Supported, HDCP Supported
HDCP Supported
PIP Mode
Resolution: Up to Full UHD

Supporting Models
All PIM supporting Models
PE40/46/55C, LE32/46/55C, MD65C, ED65/75C, ED65/75D, ME75/95C, DM65/75D, DH40/48/55D
Connectivity

Service In
RJ45 In
HDBT In
Reset
Pricing Notes:
Pricing and product availability subject to change without notice.
Samsung Products
Samsung Digital Signage Accessories
LFD HDBaseT Receiver PIM-HDBT
#SBB-HRCA/ZA
Our Price: $158.00