Samsung OH85F - OH-F Series 85" High Brightness Outdoor Display for Business

A powerful all-inclusive signage solution for outdoor business messaging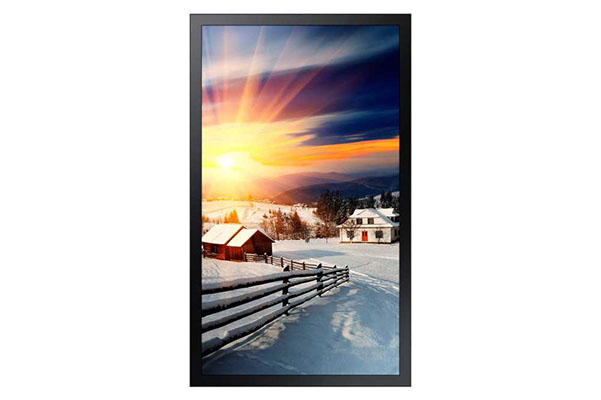 Sorry, this product is no longer available. Please Contact Us for a replacement.
Overview:
Samsung's OH-F Series are completely integrated, self-contained outdoor displays that are certified to withstand the elements and provide excellent visibility around the clock, in any light. They are fully equipped for outdoor placements and feature an innovative cooling system so there's no need for a supplemental heating or air conditioning unit. All in an ultra-slim design with an embedded power box and durable Magic Glass that protects against vandalism and graffiti.
Find convenience in an all-in-one solution with an embedded power box and network hub
Clearly showcase featured content through an ultra-slim depth (85 mm.) design
Validate overall endurance with IK10 certifi cation
Ensure 24/7, IP56-certifi ed durability in extreme weather environments
Leverage a fi lter-less self-cooling system for easy maintenance and reduced TCO
Deliver excellent visibility in direct sunlight through high 2,500nit brightness and anti-refl ection glass
Achieve convenient content management through an advanced, TIZEN-powered platform
Samsung's OHF Series SMART Signage delivers an all-inclusive engagement solution that is completely equipped for virtually any outdoor environment. Featuring a slim depth (85 mm.) design, along with the added convenience of an embedded power box, the OHF Series displays ensure durability, fl exibility and 24/7 performance even in extreme temperatures. And with 2,500 nit brightness, a 5,000:1 contrast ratio and anti-refl ection glass, businesses can ensure their messages are showcased almost anytime or anywhere.
Features: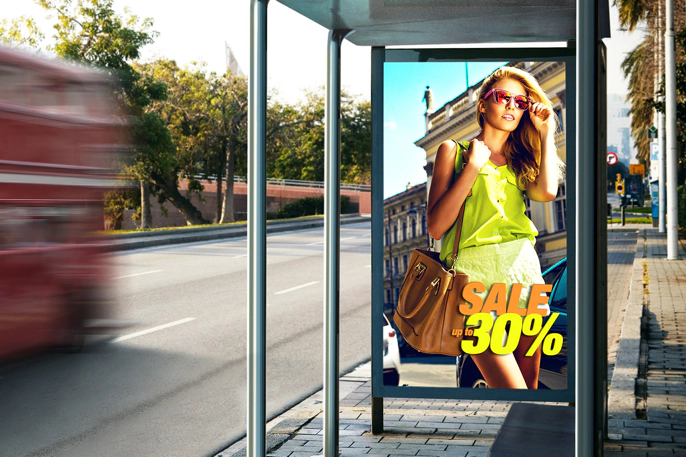 Outdoor signage with simplified installation and upkeep, plus an all-encompassing array of pre-assembled features
OHF Series is conveniently and easily installed, designed and operated with a thin, all-in-one solution, which comes in a package which includes ingress protection, anti-reflection technology, an embedded power box, vandalism protection and a highly efficient cooling system. In addition, the embedded power box helps to condense operational components to the point where an ultra slim depth of 85mm can be attained, while the functionality of embedded network hub allow for simple connection and easy installation.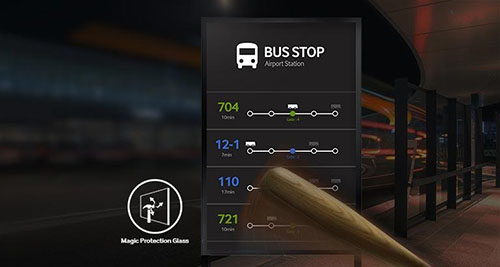 Robust IK10* level of endurance against external impacts
Advanced display protection is provided through the 5 mm (0.19 in.) tempered Magic Glass featuring durability that is IK10-certified (European strength test), further referencing its robust level of strength that can endure external impacts. In addition, a gap between the Magic Glass and the LCD panel prevents LCD breakage when the protection glass is broken.
*IK rating refers to the degree of resistance against external impacts on a scale of 0 to 10, where 10 indicates the highest level of protection.
---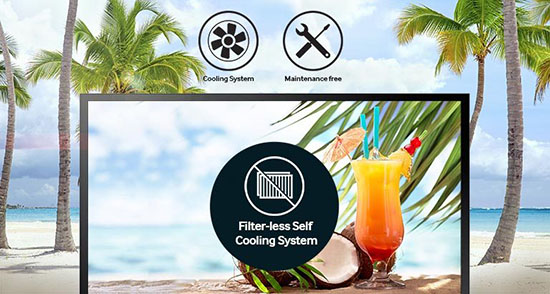 Possessing a self-cooling system with no need for filter or maintenance
Samsung's OHF Series comes complete with an advanced cooling system with heat exchanger, supported by advanced thermal control functionality. This enhances the overall efficiency in terms of both management and cost through its filter-less system. The system revolutionizes outdoor signage design, abandoning the thick enclosures to accommodate a full display package.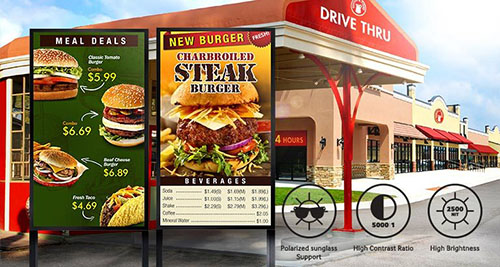 Captivate audiences with excellent visibility
High Visibility
OHF Series displays feature innovative Magic Glass, TUV Certified Image Quality and an Auto Brightness Sensor to optimize brightness in order to optimally convey messaging to virtually any viewer. These powerful displays also feature circular polarizing technology that eliminates display blindness caused by polarized sunglasses. OHF Series captivate viewers with superior messaging clarity delivered with high 2,500 nit brightness and 5,000:1 high contrast ratio.
Reflection Prevention
Greater content visibility is achieved under a combination of high brightness, lower reflection and high contrast ratio. The Magic Glass of the OHF Series that is in front of the displays' LCD panels removes the protection glass reflection, making the displayed images richer and clearer under direct sunlight.
---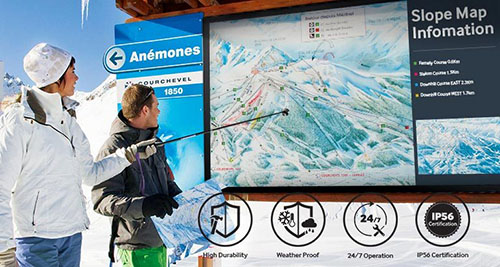 Operate reliably in virtually any environment
To deal with dust, moisture and other environmental variables that can damage your outdoor signage and impede operation, OHF Series ensure a high level of ingress defense with IP56 level protection that extends throughout the entire display.
As heat is a major factor due to outdoor signage being exposed to sunlight, operation of OHF Series has been made possible in temperatures that range from -30°C (-22°F) to 50°C (122°F) through a self-cooling system, allowing for a level of durability that can sustain 24/7 operations while negating the need for additional air conditioning systems.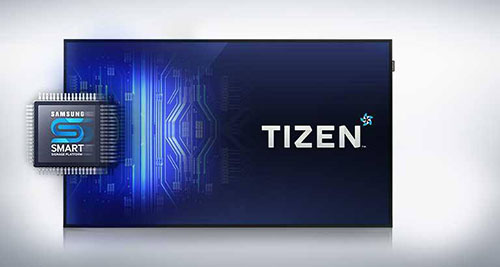 Offering robust options for content creation, management tools
Samsung's MagicInfo Player S4 empowers users with a new graphic engine applied to their signage that boosts the overall display performance while ensuring seamless transition of content. It also operates as an advanced content management solution that can allow you to play media files, set and edit media playback schedules, and much more. MagicInfo Player S4 is robust enough to enable large organizations to manage multiple digital signage through an integrated single server and also remotely monitor and manage it from a centralized location.
---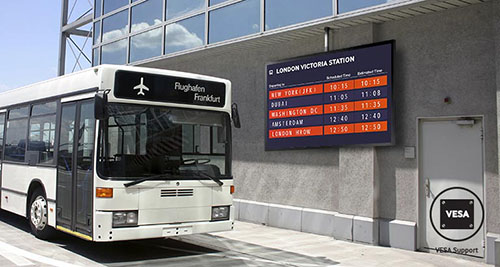 VESA-compliant for simplified mounting
The OHF Series comes complete with additional brackets (optional), in order to accommodate Standard VESA usage. Due to being VESA-compliant, the OHF series gives you the power and flexibility to mount your display according to your needs and without having to purchase a specific brand or model of wall mount. (Only applicable to 46" and 55")
Specifications:
OH46F

OH55F

OH75F

OH85F

Display

Diagonal Size

Class

46"

55"

75"

85"

Measured

45.9" / 116.8cm

54.6" / 138.7cm

74.5" / 189.3cm

84.5" / 214cm

Type

120Hz E-LED BLU

120Hz E-LED BLU

120Hz D-LED Local Dim. BLU

60Hz D-LED Local Dim. BLU

Resolution

1920 x 1080 (16:9)

1920 x 1080 (16:9)

1920 x 1080 (16:9)

3840 x 2160 (16:9)

Brightness (Typ.)

2,500 nits

2,500 nits

2,500 nits

2,500 nits

Contrast Ratio (Typ.)

5000:1

5000:1

5000:1

3000:1

Viewing Angle (H / V)

178/178

178/178

178/178

178/178

Response Time (G-to-G)

6ms

6ms

6ms

8ms

Operation Hour

24/7

24/7

24/7

24/7

Connectivity

Input

RGB

N/A

N/A

N/A

DP 1.2 (2) @UHD 60Hz

VIDEO

HDMI 1.4 (2), HDBaseT (LAN Common)

HDMI 1.4 (2), HDBaseT (LAN Common)

HDMI 1.4 (2), HDBaseT (LAN Common)

HDMI 1.4 (2) @UHD 30Hz, HDBaseT

HDCP

HDCP 2.2

HDCP 2.2

HDCP 2.2

HDCP 1.4

USB

USB 2.0 (1)

USB 2.0 (1)

USB 2.0 (1)

USB 2.0 (1) (Only for FW Update)

Output

AUDIO

Stereo Mini Jack

Stereo Mini Jack

Stereo Mini Jack

Stereo Mini Jack

External Control

RS232C (In / Out), RJ45 (In / Out), HDBaseT

RS232C (In / Out), RJ45 (In / Out), HDBaseT

RS232C (In / Out), RJ45 (In / Out), HDBaseT

RS232C (In), RJ45, HDBaseT

Power

Type

Internal

Internal

Internal

Internal

Power Supply

AC 100 - 240 V~ (+/- 10 %), 50/60 Hz

AC 100 - 240 V~ (+/- 10 %), 50/60 Hz

AC 100 - 240 V~ (+/- 10 %), 50/60 Hz

AC 100 - 240 V (+/- 10 %), 50/60 Hz

Power Consumption

Max [W / H]

468

554

1400

1,600

Typical [W / H]

Sleep Mode

440

< 0.5W

510

< 0.5W

TBD

< 0.5W

TBD

< 0.5W

Off Mode

< 0.5W

< 0.5W

< 0.5W

< 0.5W

Dimensions

Set (WxHxD)

42.09" x 24.55" x 3.35"

49.63" x 28.80" x 3.35"

69.92" x 41.50" x 4.72"

78.90" x 46.65" x 4.72"

Package (WxHxD)

45.51" x 28.07" x 7.87"

53.46" x 33.27" x 9.06"

3.02" x 1.94" x 0.77"

85.63" x 54.45" x 19.49"

Weight

Set

89.3 lbs

116.0 lbs

313.0 lbs

359.4 lbs

Package

97.7 lbs

128.1 lbs

414.5 lbs

465.2 lbs

Mechanical Spec.

Mounting Hole

39.17" x 19.69" (Basic)

1000 x 400 (VESA Bracket Option)

46.69" x 22.05" (Basic)

1200 x 400 (VESA Bracket Option)

34.25" x 44.03" (M8 x 8Hole)

39.37" x 44.03" (M8 x 8Hole)

Protection Glass

Yes (5T Tempered Glass)

Yes (5T Tempered Glass)

Yes (5T Tempered Glass)

Yes (5T Tempered Glass)

Bezel Width (mm)

24.9 / 24.9 / 24.9 / 24.9 mm

24.9 / 24.9 / 24.9 / 24.9 mm

59.8 / 59.8 / 59.8 / 59.8 mm

62 / 62 / 62 / 62 mm

Environmental Conditions

Operating Temperature

-30°C ~ 50°C (-22°F - 122°F)

-30°C ~ 50°C (-22°F - 122°F)

-30°C ~ 50°C (-22°F - 122°F)

-30°C ~ 50°C (-22°F - 122°F)

Operating Humidity

10 ~ 80%

10 ~ 80%

10 ~ 80%

10 ~ 80%

IP Certificate

IP56

IP56

IP56

IP56

Features

Special

IP56 Certified for Simple Enclosure Outdoor, Protection Glass (IK-10 Level1, Anti Graffiti, Infrared Reduce), Polarized Sun Glasses Viewable in any direction, HD Base T for Long Distance Installing, Portrait / Landscape Installation Support, Lamp Error Detection, Auto Brightness Control with Ambient Brightness Sensor, Temperature Sensor, RJ45 MDC, Auto Source Switching & Recovery, Clock Battery (80 hrs Clock Keeping), Kensington Lock

Processor

Cortex-A12 1.3GHz Quad Core CPU , 2.5GB, 3 Channel 96 bit DDR3-933 , 8GB (3.75GB Occupied by O/S, 4.25GB Available), Tizen 2.4 (VDLinux), USB 2.0

Cortex-A12 1.3GHz Quad Core CPU , 2.5GB, 3 Channel 96 bit DDR3-933 , 8GB (3.75GB Occupied by O/S, 4.25GB Available), Tizen 2.4 (VDLinux), USB 2.0

Cortex-A12 1.3GHz Quad Core CPU , 2.5GB, 3 Channel 96 bit DDR3-933 , 8GB (3.75GB Occupied by O/S, 4.25GB Available), Tizen 2.4 (VDLinux), USB 2.0

N/A

Accessories

Included

Quick Setup Guide, Regulatory Guide, Warranty Card, Power Cord, Remote Controller, Batteries

Quick Setup Guide, Regulatory Guide, Warranty Card, Remote Controller, Batteries