Samsung Portable SSD T1 1TB

Protect Data from Unauthorized Access and Physical Damage.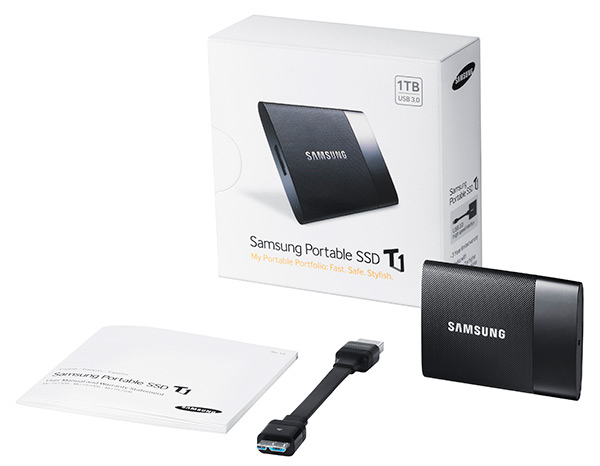 This product is no longer available, please contact us for a replacement.
Overview:
Combining high performance with convenience and portability, the T1 is the perfect way to back up and carry data wherever business takes you. And with cutting edge security, you'll have the peace of mind that your information is protected from unauthorized access.
Save Time with Fast Read/Write Speeds
Protect Data from Unauthorized Access and Physical Damage
Experience a Premium Design Optimized for Portability
Features
High-Speed Performance
Compared to traditional spinning platter external HDDs, this portable SSD features exceptionally fast read and write speeds. This means you can spend less time accessing and moving files, and more time being productive.
Cutting Edge Security
Your data is critical to your business. That's why the T1 is embedded with the latest in advanced security, using an AES 256-bit encryption algorithm to secure valuable, confidential information. No installation is required and all your data can be accessed with one password.
Shock & Vibration Resistant
Utilizing solid state technology, the T1 has no moving parts, so it is more resistant to shock and vibration. It also features a Dynamic Thermal Guard which protects data in high temperatures.
Sleek, Stylish Design
A sleek, premium design is accentuated by a slim, compact shape, so you can easily carry your data on the go—and in style. Plus, it features laser patterning and black chrome metalized finishing.
Specifications:
Samsung Portable SSD T1 1TB Specifications
Type
Interface
Compatible with USB 3.0 and 2.0
Application
Consumer
Yes
Portable SSD
Yes
Storage
Capacity
1TB
Features
Data Transfer Speed
Up to 450MB/sec. (* Performance can be vary depending on host configuration and test software)
AES Encryption
AES256bit
Security
Password setting (Optional) (*User can select security option in initial registration process (For more details, please refer to the manual))
Dimensions (W x H x D)
Product
2.8"(W) x 0.36"(H) x 2.09"(D)
Weight
Product
0.9 oz.
Warranty
Product
3 Year Limited