Samsung 32" 693 Series Slim Direct-Lit LED Healthcare TV

Universal Pillow Speaker Interface.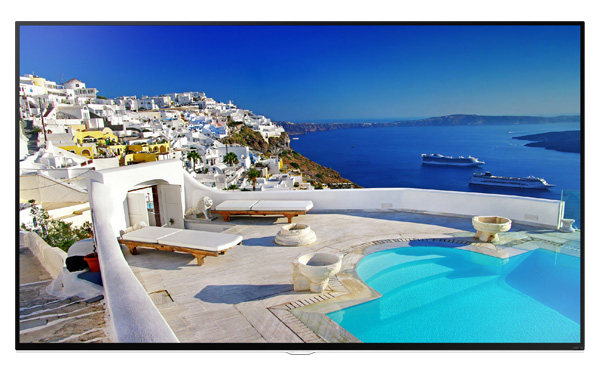 This product is no longer available, please contact us for a replacement.
Overview:
Discover advanced TV solutions designed specifically for today's healthcare industry. Samsung's Healthcare TVs have been manufactured with hospital-specific features, such as an interchangeable pillow speaker interface and compatibility with many interactive patient education systems. Facility managers can benefit from up to 50% less energy use with slim direct-lit LED and an on-site warranty program.
UL-Listed for Hospital Use
Universal Pillow Speaker Interface
Samsung LYNK™ SINC 3.0 Interactive Content Management System
SMART TV Offers Interactive Patient Engagement Systems
Features
UL-Listed for Hospital Use
Samsung Healthcare TVs are specifically engineered to meet the stringent requirements for use in hospital environments.
Universal Pillow Speaker Interface
An easy-to-use interface for multiple styles of pillow speakers is built right into the TV. This eliminates the hassle of lost remotes and changing batteries.
Samsung LYNK™ SINC 3.0
This IP-based content management system communicates between our TVs and hotel property management software. Customize entertainment with EPG (Electronic Program Guide), Weather API, Flight Info, Real Time Messaging and our Hospitality Widget Library (Facebook, Twitter, AccuWeather, Google Maps™).
Samsung LYNK REACH 3.0
The Samsung LYNK REACH 3.0 (Remote Enhanced Active Control for Hotels) content management solution is used in conjunction with an existing coaxial-based infrastructure. It provides centralized TV controls, basic static content management capabilities and an Interactive Program Guide (IPG).
Specifications:
Samsung 32" 693 Series Slim Direct-Lit LED Healthcare TV Specifications
Display
Backlight
Slim Direct-Lit LED
Screen Size (Diagonal)
32"
HD/FHD
FHD
Resolution
1920 x 1080
Video
Picture Engine
HyperReal Engine
Micro Dimming
N/A
Wide Color Enhancer Plus
Yes
Auto Motion Plus
N/A
Film Mode
Yes
Audio
Dolby
Dolby MS10
DTS Studio Sound / DNSe+
DTS Studio Sound
DTS Premium Sound / DTS Premium Sound 5.1
DTS Premium Sound 5.1
3D Sound
N/A
Auto Volume Leveler
Yes
Speaker Type
Down Firing + Full Range
Sound Output (RMS)
10W x 2
Woofer
N/A
Variable Speaker Output
4W (Mono, 8Ω)
Features
Smart Hub
Yes
Apps
Yes
Web Browser
Yes
Samsung SMART View
Yes
Wireless LAN Built-in
Yes
AllShare - Contents Sharing
Yes
AllShare - Screen Mirroring
Yes
ConnectShare™ (USB 2.0)
Movie
Wake On LAN
Yes
Soft AP
Yes
USB HID Support
Yes
OSD Language
English, Spanish, French
Digital Clean View
Yes
HDMI 1.4 A / Return Ch. Support (ARC)
Yes
Auto Channel Search
Yes
Auto Power Off
Yes
EPG
Yes
Caption (Subtitle)
Yes
Wake-up Timer
Yes
Game Mode
Yes
Picture-In-Picture
Yes
Sleep Timer
Yes
Healthcare Features
Hospitality Home Menu
Yes
Samsung LYNK™ REACH Server Compatibility
Yes
Samsung LYNK™ SINC Compatibility
Yes
H.Browser Compatibility
Yes
Hospitality Plug&Play (Easy Set-up)
Yes
RJ 12 / IR Pass Through
Yes
Power on Mode
Yes
USB Cloning
Yes
Logo Display with Time Out Setting (BMP/Movie)
Yes
Welcome Message
Yes
Music Mode (Input : PC/AV/Component/HDMI)
Yes
Music Mode BackLight on/off
Yes
Auto Source Mode
Yes
Energy Saving Mode(BLU control)
Yes
Clock Back Up Supply
Yes
Software Clock
Yes
Multi Code Remote Control
Yes
Smoovie Compatibility
Yes
Samsung LYNK™ DRM
Yes
Pro:Idiom
Yes
Input & Output
HDMI (Side/Rear)
2/2
USB (Side/Rear)
1/0
Component In (Y/Pb/Pr) (Side/Rear)
0/1
Composite In (AV) (Side/Rear)
0/1 (Common Use for Component Y)
Ethernet (LAN) (Side/Rear)
N/A
Digital Audio Out (Optical) (Side/Rear)
0/1
Audio Out (Mini Jack) (Side/Rear)
1/0
RF In (Terrestrial/Cable input) (Side/Rear)
0/1
RS232C
Yes Common Use for Component RJ12)
Pillow Speaker Jack (Side/Rear)
Yes
Variable Audio Out (Side/Rear)
No
Variable Audio Out Volume Control (Side/Rear)
No
RJ12 for External Control (Side/Rear)
0/1
RJP Jack (Remote Jack Pack) (Side/Rear)
0/1
System
DTV Tuner
ATSC / Clear QAM
Analog Tuner
Yes
Design
Front Color
Black
Stand Type
N/A
Swivel (Left/Right)
N/A
Dimensions
Set Dimension (WxHxD) (mm / inches)
721.4 x 428.5 x 64.9 / 28.4" x 16.87" x 2.56"
Package Dimension (WxHxD) (mm / inches)
899 x 506 x 113 / 35.39" x 19.92" x 4.45"
Weight
Set Weight (kg / lbs.)
5 / 11.02 lbs.
Package Weight (kg / lbs.)
6.6 / 14.55 lbs.
VESA
VESA Mount (mm)
200 x 200
VESA Screw Size
M8
Power
Power Supply (V)
AC110-120V 60Hz
Multi Voltage
AC110-220V
UPC
UPC
887276684406
Accessory
Remote Controller Model
N/A
Battery (for Remote Control)
N/A
Mini Wall Mount Support
Yes
Vesa Wall Mount Support
Yes
Power Cable (Hospital Grade)
Yes
Quick Install Guide
Yes
Compare:
Samsung Healthcare Series TVs Comparison
Model Number
HG28NC673AF
HG32NB673BF
HG32NC693DF
HG40NC693DF
Display
Backlight
Slim Direct-Lit LED
Slim Direct-Lit LED
Slim Direct-Lit LED
Slim Direct-Lit LED
Screen Size (Diagonal)
28"
32"
32"
40"
HD/FHD
HD
HD
FHD
FHD
Resolution
1366 x 768
1368 x 768
1920 x 1080
1920 x 1080
Video
Picture Engine
HyperReal Engine
HyperReal Engine
HyperReal Engine
HyperReal Engine
Micro Dimming
N/A
N/A
N/A
N/A
Wide Color Enhancer Plus
Yes
Yes
Yes
Yes
Auto Motion Plus
N/A
N/A
N/A
N/A
Film Mode
Yes
Yes
Yes
Yes
Audio
Dolby
Dolby MS10
Dolby MS10
Dolby MS10
Dolby MS10
DTS Studio Sound / DNSe+
DTS Studio Sound
DTS Studio Sound
DTS Studio Sound
DTS Studio Sound
DTS Premium Sound / DTS Premium Sound 5.1
DTS Premium Sound 5.1
DTS Premium Sound 5.1
DTS Premium Sound 5.1
DTS Premium Sound 5.1
3D Sound
N/A
N/A
N/A
N/A
Auto Volume Leveler
Yes
Yes
Yes
Yes
Speaker Type
Down Firing + Full Range
Down Firing + Full Range
Down Firing + Full Range
Down Firing + Full Range
Sound Output (RMS)
5W x 2
10W x 2
10W x 2
10W x 2
Woofer
N/A
N/A
N/A
N/A
Variable Speaker Output
4W (Mono, 8Ω)
4W (Mono, 8Ω)
4W (Mono, 8Ω)
4W (Mono, 8Ω)
Features
Smart Hub
No
No
Yes
Yes
Apps
No
No
Yes
Yes
Web Browser
No
No
Yes
Yes
Samsung SMART View
No
No
Yes
Yes
Wireless LAN Built-in
No
No
Yes
Yes
AllShare - Contents Sharing
No
No
Yes
Yes
AllShare - Screen Mirroring
No
No
Yes
Yes
ConnectShare™ (USB 2.0)
Movie
Movie
Movie
Movie
Wake On LAN
No
No
Yes
Yes
Soft AP
No
No
Yes
Yes
USB HID Support
No
No
Yes
Yes
OSD Language
English, Spanish, French
English, Spanish, French
English, Spanish, French
English, Spanish, French
Digital Clean View
Yes
Yes
Yes
Yes
HDMI 1.4 A / Return Ch. Support (ARC)
Yes
Yes
Yes
Yes
Auto Channel Search
Yes
Yes
Yes
Yes
Auto Power Off
Yes
No
Yes
Yes
EPG
No
Yes
Yes
Yes
Caption (Subtitle)
Yes
Yes
Yes
Yes
Wake-up Timer
Yes
Yes
Yes
Yes
Game Mode
Yes
Yes
Yes
Yes
Picture-In-Picture
Yes
Yes
Yes
Yes
Sleep Timer
Yes
Yes
Yes
Yes
Healthcare Features
Hospitality Home Menu
Yes
No
Yes
Yes
Samsung LYNK™ REACH Server Compatibility
Yes
Yes
Yes
Yes
Samsung LYNK™ SINC Compatibility
No
No
Yes
Yes
H.Browser Compatibility
No
No
Yes
Yes
Hospitality Plug&Play (Easy Set-up)
Yes
Yes
Yes
Yes
RJ 12 / IR Pass Through
Yes
Yes
Yes
Yes
Power on Mode
Yes
Yes
Yes
Yes
USB Cloning
Yes
Yes
Yes
Yes
Logo Display with Time Out Setting (BMP/Movie)
Yes
Yes
Yes
Yes
Welcome Message
Yes
Yes
Yes
Yes
Music Mode (Input : PC/AV/Component/HDMI)
Yes
Yes
Yes
Yes
Music Mode BackLight on/off
Yes
Yes
Yes
Yes
Auto Source Mode
Yes
Yes
Yes
Yes
Energy Saving Mode(BLU control)
Yes
Yes
Yes
Yes
Clock Back Up Supply
Yes
Yes
Yes
Yes
Software Clock
Yes
Yes
Yes
Yes
Multi Code Remote Control
Yes
Yes
Yes
Yes
Smoovie Compatibility
Yes
Yes
Yes
Yes
Samsung LYNK™ DRM
Yes
Yes
Yes
Yes
Pro:Idiom
Yes
Yes
Yes
Yes
Input & Output
HDMI (Side/Rear)
2/1
2/2
2/2
2/2
USB (Side/Rear)
1/0
1/0
1/0
1/0
Component In (Y/Pb/Pr) (Side/Rear)
No
0/1
0/1
0/1
Composite In (AV) (Side/Rear)
1/0 (Common Use for Component Y)
0/1 (Common Use for Component Y)
0/1 (Common Use for Component Y)
0/1 (Common Use for Component Y)
Ethernet (LAN) (Side/Rear)
N/A
N/A
N/A
1/0
Digital Audio Out (Optical) (Side/Rear)
No
0/1
0/1
0/1
Audio Out (Mini Jack) (Side/Rear)
0/1
1/0
1/0
1/0
RF In (Terrestrial/Cable input) (Side/Rear)
0/1
0/1
0/1
0/1
RS232C
Yes Common Use for Component RJ12)
Yes Common Use for Component RJ12)
Yes Common Use for Component RJ12)
Yes Common Use for Component RJ12)
Pillow Speaker Jack (Side/Rear)
Yes
Yes
Yes
Yes
Variable Audio Out (Side/Rear)
No
No
No
No
Variable Audio Out Volume Control (Side/Rear)
No
No
No
No
RJ12 for External Control (Side/Rear)
0/1
0/1
0/1
0/1
RJP Jack (Remote Jack Pack) (Side/Rear)
0/1
0/1
0/1
0/1
System
DTV Tuner
ATSC / Clear QAM
ATSC / Clear QAM
ATSC / Clear QAM
ATSC / Clear QAM
Analog Tuner
Yes
Yes
Yes
Yes
Design
Front Color
Black
Black
Black
Black
Stand Type
N/A
N/A
N/A
N/A
Swivel (Left/Right)
N/A
N/A
N/A
N/A
Dimensions
Set Dimension (WxHxD) (mm / inches)
643.4 x 396.5 x 62.9 / 25.33" x 15.61" x 2.48"
721.4 x 428.5 x 64.9 / 28.4" x 16.87" x 2.56"
721.4 x 428.5 x 64.9 / 28.4" x 16.87" x 2.56"
906.6 x 532.9 x 65.1 / 35.69" x 20.98" x 2.56"
Package Dimension (WxHxD) (mm / inches)
815 x 463 x 108 / 32.09" x 18.23" x 4.25"
899 x 506 x 113 / 35.39" x 19.92" x 4.45"
899 x 506 x 113 / 35.39" x 19.92" x 4.45"
1100 x 616 x 120 / 43.31" x 24.25" x 4.72"
Weight
Set Weight (kg / lbs.)
3.7 / 8.16 lbs.
5 / 11.02 lbs.
5 / 11.02 lbs.
7.8 / 17.19 lbs.
Package Weight (kg / lbs.)
4.8 / 10.6 lbs.
6.6 / 14.55 lbs.
6.6 / 14.55 lbs.
9.4 / 20.72 lbs.
VESA
VESA Mount (mm)
100 x 100
200 x 200
200 x 200
200 x 200
VESA Screw Size
M4
M8
M8
M8
Power
Power Supply (V)
AC110-120V 60Hz
AC110-120V 60Hz
AC110-120V 60Hz
AC110-120V 60Hz
Multi Voltage
AC110-220V
AC110-220V
AC110-220V
AC110-220V
UPC
UPC
887276689166
887276684406
887276684406
887276684413
Accessory
Remote Controller Model
N/A
N/A
N/A
N/A
Battery (for Remote Control)
N/A
N/A
N/A
N/A
Mini Wall Mount Support
No
Yes
Yes
Yes
Vesa Wall Mount Support
Yes
Yes
Yes
Yes
Power Cable (Hospital Grade)
Yes
Yes
Yes
Yes
Quick Install Guide
Yes
Yes
Yes
Yes