Samsung 22" Class 470 Series Edge-Lit Hospitality LED HDTV

A Premium LED Experience From The LED Industry Leader.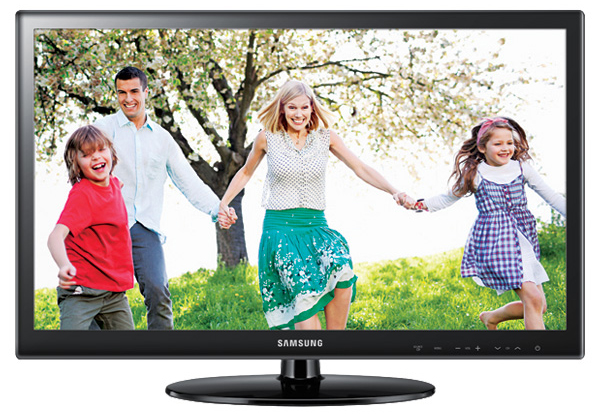 This product is no longer available, please contact us for a replacement.
Overview:
Your guests have high standards, and Samung's 470 Series can help you exceed their expectations with in-room displays that are changing the face of hospitality. This 22" display's energy-efficient design and eco-friendly features deliver world-class performance, complementing the feel of your rooms without costing the environment. And all while providing easy content access and management.
LED Edge-Lit Full Array
HD Content Decryption: Samsung Lynk™
REACH Compliant: Customize Guest Room Marketing
Energy Saving Mode (BLU Control)
Features
LED Edge-Lit Full Array
A leader in LED technology, Samsung's premium Edge Lit LED products put any hotel in the best light possible and deliver an unparalleled guest experience. Samsung offers a full range of energy-efficient flat panel TVs with best-in-class picture quality and value.
Samsung Lynk™
Samsung's software-based DRM technology is integrated into the entire Samsung 2012 Hotel TV line. Samsung Lynk offers highly reliable access to unlock premium HDTV content from content providers such as cable, satellite and VOD providers. Samsung's advanced Lynk DRM helps eliminate tampering HD premium content without disruptive service to the hotel guest.
Remote Enhanced Active Control for Hotels (REACH/Management Solution)
Used with coaxial-based solution designed to provide centralized TV controls, basic static content management capabilities and Interactive Program Guide (IPG). The Hotel Guest, in a (free-to-guest) hotel can experience picture and content such as: hotel information, local and in-room dinning, spa, meeting and events, local attractions and other simple guest convenience features. Property management will be able to update and change information on an easy Windows-based system.
Specifications:
Samsung 22" Class 470 Series Edge-Lit Hospitality LED HDTV Specifications
Video
Screen Size (Diagonal)
22" Screen Measured Diagonally
Auto Motion Rate
120
Native Resolution
1920 x 1080
Response Time (MS)
5 mS
Runers
Analog, ATSC / Clear QAM Digital
Features
Hotel Logo On-Screen Display
Yes
Closed Captioning
Yes
MultiCode Remote
Yes
Sirch
Yes
USB Cloning
Yes
Variable Sleep Timer
Yes
Hopitality Plug & Play (Easy Set-up)
Yes
Hotel Channel List
Yes
Security Screws & Stand Mount Kit
Yes
Anti-Theft Battery Cover
Yes
Auto TV On
Yes
Music Mode (Input: PC/AV/Component)
Yes
Alarm Key
Yes
Power On Status Setting
Yes
Connectshare (USB 2.0)
Movie
Music Mode Backlight On/Off
Yes
OSD Language
Yes
Connectivity
HDMI
2 Rear
USB (Side/Rear)
1 Rear
Digital Audio Out (Optical) (Side/Rear)
1 Rear
Component (Side/Rear)
1 Rear
Remote Jack Pack
1
Composite in (AV) (Side/Rear)
1 Rear
Hotel TV (Rj-12 IR Pass Through)
1
PC (D-Sub 15 Pin)
1 Rear
PC Audio Jack
1 Rear
Audio
Speaker Type
Down Firing + Full Range
Dolby
Yes
Sound Effect System
SRS TheaterSound
Dimensions
Product Depth
1.57"
Product Size (W x H x D) Without Stand
20.31" x 12.43" x 1.57"
Product Size (W x H x D) With Stand
20.31" x 13.78" x 4.88"
Shipping Size (W x H x D)
23.15" x 4.72" x 1.79"
Weight
Product Weight Without Stand
7.5 lb.
Product Weight With Stand (LB)
7.7 lb.
Warranty
Parts and Labor
2 Years
Power
Energy Saving Modes
4
Energy Star Certified
Yes
Power Supply
AC110-120V 60 Hz
Specifications
TV System
ATSC/Clear QAM Cable
Compare:
Samsung 470/570 Series Hospitality TVs Comparison
Model Number
HG22NA470BF
HG32NA470GF
HG39NA570CF
HG40NA570LF
HG46NA570LB
Display
Backlight
Direct-lit LED
Direct-lit LED
Direct-lit LED
Direct-lit LED
Direct-lit LED
Screen Size (Diagonal)
22"
32"
39"
40"
46"
HD/FHD
FHD
HD
FHD
FHD
FHD
Resolution
1920 X 1,080
1366 x 768
1920 x 1080
1920 x 1080
1920 x 1080
Video
Picture Engine
HyperReal Engine
HyperReal Engine
HyperReal Engine
HyperReal Engine
HyperReal Engine
Wide Color Enhancer Plus
Yes
Yes
Yes
Yes
Yes
Film Mode
Yes
Yes
Yes
Yes
Yes
Audio
Dolby
Dolby Digital Plus / Dolby Pulse
Dolby Digital Plus / Dolby Pulse
Dolby Digital Plus / Dolby Pulse
Dolby Digital Plus / Dolby Pulse
Dolby Digital Plus / Dolby Pulse
DTS Studio Sound / DNSe+ / dts 2.0
Yes
Yes
Yes
Yes
Yes
Surround (SRS)
SRS Theater Sound
SRS Theater Sound
SRS Theater Sound
SRS Theater Sound
SRS Theater Sound
Auto Volume Leveler
Yes
Yes
Yes
Yes
Yes
Speaker Type
Down Firing + Full Range
Down Firing + Full Range
Down Firing + Full Range
Down Firing + Full Range
Down Firing + Full Range
Sound Output (RMS)
3Wx2
10Wx2
10Wx2
10Wx2
10Wx2
Features
ConnectShare™ (USB 2.0)
Movie
Movie
Movie
Movie
Movie
OSD Language
English, French, Spanish
English, French, Spanish
English, French, Spanish
English, French, Spanish
English, French, Spanish
Digital Noise Filter
Yes
Yes
Yes
Yes
Yes
HDMI 1.4 A / Return Ch. Support (ARC)
Yes
Yes
Yes
Yes
Yes
Anynet+ (HDMI-CEC)
Yes
Yes
Yes
Yes
Yes
Auto Channel Search
Yes
Yes
Yes
Yes
Yes
Auto Power Off
Yes
Yes
Yes
Yes
Yes
Caption (Subtitle)
Yes
Yes
Yes
Yes
Yes
Wake-up Timer
Yes
Yes
Yes
Yes
Yes
Game Mode
Yes
Yes
Yes
Yes
Yes
Picture-In-Picture
1 Tuner PIP
1 Tuner PIP
1 Tuner PIP
1 Tuner PIP
1 Tuner PIP
Sleep Timer
Yes
Yes
Yes
Yes
Yes
Hospitality Features
Samsung LYNK™ REACH Server Compatibility
Yes
Yes
Yes
Yes
Yes
Hospitality Plug&Play (Easy Set-up)
Yes
Yes
Yes
Yes
Yes
RJ 12 / IR Pass Through
Yes
Yes
Yes
Yes
Yes
Power on Mode
Yes
Yes
Yes
Yes
Yes
USB Cloning
Yes
Yes
Yes
Yes
Yes
Logo Display with Time Out Setting (BMP/Movie)
Yes
Yes
Yes
Yes
Yes
Welcome Message
Yes
Yes
Yes
Yes
Yes
Music Mode (Input : PC/AV/Component/HDMI)
Yes
Yes
Yes
Yes
Yes
Music Mode BackLight on/off
Yes
Yes
Yes
Yes
Yes
Auto Source Mode
Yes
Yes
Yes
Yes
Yes
Energy Saving Mode(BLU control)
Yes
Yes
Yes
Yes
Yes
Software Clock
Yes
Yes
Yes
Yes
Yes
Multi Code Remote Control
Yes
Yes
Yes
Yes
Yes
Screwed Remote Battery Cover
Yes
Yes
Yes
Yes
Yes
Security Mode
No
Yes
Yes
Yes
Yes
Smoovie Compatibility
Yes
Yes
Yes
Yes
Yes
Sound bar compatibility
Yes
Yes
Yes
Yes
Yes
Samsung LYNK™ DRM
Yes
Yes
Yes
Yes
Yes
Input & Output
HDMI (Side/Rear)
0/2
1/2
1/2
1/2
1/2
USB (Side/Rear)
0/1
1/0
1/0
1/0
1/0
Composite In (AV) (Side/Rear)
0/1 (Common Use for Component Y)
1/1 (Common Use for Component Y)
1/1 (Common Use for Component Y)
1/1 (Common Use for Component Y)
0/1 (Common Use for Component Y)
Ethernet (LAN) (Side/Rear)
No
No
No
No
No
Audio Out (Mini Jack) (Side/Rear)
No
1
1
1
1
RF In (Terrestrial/Cable input) (Side/Rear)
1
1
1
1
1
RS232C
Yes
Yes
Yes
Yes
Yes
RJ12 for External Control (Side/Rear)
1
1
1
1
1
RJP Jack (Remote Jack Pack) (Side/Rear)
1
1
1
1
1
System
DTV Tuner
ATSC / Clear QAM
ATSC / Clear QAM
ATSC / Clear QAM
ATSC / Clear QAM
ATSC / Clear QAM
Analog Tuner
Yes
Yes
Yes
Yes
Yes
Design
Front Color
Black
Black
Black
Black
Black
Stand Type
Round
Square
Square
Square
Square
Swivel (Left/Right)
No
20/60/90
20/60/90
20/60/90
20/60/90
Dimensions (W x H x D)
Set Size with Stand (mm) / (inches)
515.87 x 350.01 x 121.92 / 20.31" x 13.78" x 4.88"
738.8 x 500.8 x 191.7 / 29.09" x 19.42" x 7.55"
895.9 x 589.3 x 227.6 / 35.27" x 23.20" x 8.96"
927.6 x 607.0 x 227.6 / 36.52" x 23.90" x 8.96"
1059.8 x 681.2 x 227.6 / 41.72" x 26.82" x 8.96"
Set Size without Stand (mm) / (inches)
515.87 x 350.01 x 39.88 / 20.31" x 13.78" x 1.57"
738.8 x 436.7 x 93.2 / 29.09" x 17.19" x 3.67"
895.9 x 532.5 x 94.1/ 35.27" x 20.96" x 3.70"
927.6 x 551.0 x 93.0 / 36.52" x 21.69" x 3.66"
1059.8 x 625.6 x 94.3 / 41.72" x 24.63" x 3.71"
Carton Dimensions
(H x L x W) (mm) / (inches)
588.01 x 119.88 x 45.47 / 23.15" x 4.72" x 1.79"
902.0 x 530.0 x 162.0 / 35.51" x 20.87" x 6.38"
1074.0 x 165.0 x 618.0 / 42.28" x 24.33" x 6.49"
1104.0 x 641.0 x 175.0 / 43.46" x 25.24" x 6.89"
1237.0 x 723.0 x 175.0 / 48.70" x 28.46" x 6.89"
Weight
Set Weight with Stand (kg / lbs.)
3.5 / 7.7
7.8 / 10.6
10.6 / 23.4
11.9 / 26.2
15.4 / 33.9
Set Weight without Stand (kg / lbs.)
3.4 / 7.5
5.8 / 9.2
7.8 / 17.2
9.0 / 19.8
12.5 / 27.5
Package Weight (kg / lbs.)
4.4 / 4.7
9.6 / 21.2
12.6 / 27.8
14.27 / 31.5
18.15 / 40.1
VESA Mounting
Dimensions (mm)
75 x 75
200 x 200
200 x 200
200 x 200
400 x 400
Screw Size
M4
M6
M6
M6
M8
Power
Power Supply
AC110-120V 60Hz
AC110-120V 60Hz
AC110-120V 60Hz
AC110-120V 60Hz
AC110-120V 60Hz
Multi Voltage
AC110-220V
AC110-220V
AC110-220V
AC110-220V
AC110-220V
UPC
UPC
036725237742
036725237735
887276007908
0372537803
036725237870
Accessory
Remote Controller Model
TM1050
TM1050
TM1050
TM1050
TM1050
Battery (for Remote Control)
Yes
Yes
Yes
Yes
Yes
Mini Wall Mount Support
No
Yes
Yes
Yes
Yes
Vesa Wall Mount Support
Yes
Yes
Yes
Yes
Yes
Power Cable (5 ft.)
Yes
Yes
Yes
Yes
Yes
Data Cable
Yes
Yes
Yes
Yes
Yes
Quick Install Guide
Yes
Yes
Yes
Yes
Yes
Security Screws
Yes
Yes
Yes
Yes
Yes
Stand Mount Kit
No
Yes
Yes
Yes
Yes