Samsung H32B - HB Series 32" HDTV Direct-Lit LED Display

A High-definition TV. A High-resolution Display. You Have Space And Budget For Both.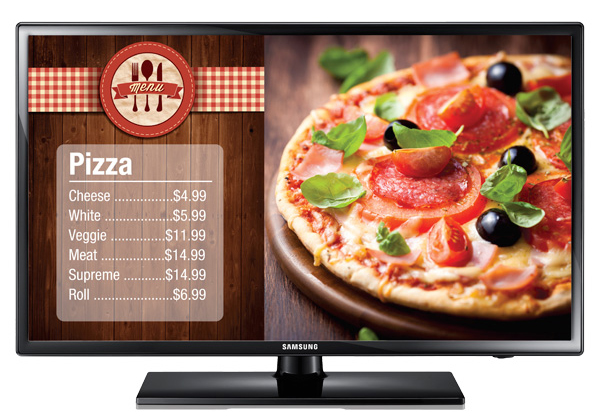 This product is no longer available, please contact us for a replacement.
Overview:
Showcase HDTV and high-resolution video in one budget-friendly commercial display. From sports to current events to your own content highlighting a menu or a retail sale, Samsung's sophisticated H Series HDTV narrow-bezel displays provide for a high-quality look. And with an integrated high-definition TV tuner, you can broadcast TV content in sharp, beautiful high resolution on the 32" screen.
HDTV Display
USB Digital Signage Media Player
Thin Bezels
RS232 Control
Features
HDTV Display
The built-in TV tuner, embedded speakers and closed captioning provide the option of easily displaying broadcast TV. And the high-definition display is excellent for displaying custom content of any type, either stand-alone or as part of a video wall.
USB Digital Signage Media Player
The USB port makes it easy to play video, pictures and audio from a portable USB flash drive.
Thin Bezels
Thin side bezels of just 17.7 mm (32" model) and 18.5 mm (40"/46" models) add a sophisticated look, enabling a more impactful message.
Direct-Lit LED
The direct-lit LED in the Samsung HDTV Series displays provide the brightness, the color and the energy savings of LED, at a cost affordable to any business.
Specifications:
Samsung H32B - HB Series 32" HDTV Direct-Lit LED Display Specifications
Display
Screen Size
32" Wide
Display Type
Direct Lit LED
Resolution
1366 x 768
Aspect Ratio
16:9
Brightness
300 nits
Contrast Ratio (Typical/Dynamic)
3500:1/Mega Infinity
Viewing Angle (Horizontal/Vertical)
178˚/178˚ (CR>10)
Response Time
8ms (GTG)
Connectivity
Input
HDMI x 3 (1 HDMI supports DVI) Component (CVBS Common), AV2, ANT In, USB, PC/DVI Audio In, Component Audio In, AV Audio In
Output
Digital Audio Out (Optical), Audio Out
External Control
RS232 thru Stereo Jack
Power
Voltage
AC 100 - 240 VAC (+/- 10 %), 60/50 Hz
Power Supply Type
Built-In
Power Consumption (Typical/Max)
40W/54W
Power Consumption (Standby)
< 0.3W
Environmental
Operating Temperature
0°C~ 40°C
Operating Humidity
10~80%
Features
Specia
Built in Speaker, Plug and Play (through USB), PIP/PBP, Narrow Bezel, Light Weight, Built-in Button Lock
Tuner
ATSC/NTSC/QAM
Media Player
USB Auto Play (Movie, Picture, Audio, No scheduling)
VESA Standard Wall Mount Interface
200 x 200mm
Dimensions
Packaging Dimensions (without stand)
29.1" x 17.2" x 3.7"
Product Dimensions (W x H x D)
35.5" x 20.9" x 6.4"
Bezel Width
17.7mm L/R/T (21.2mm Bottom)
Weight
Product Weight
13.9 lbs.
Shipping Weight
17.2 lbs.
Service
Standard Warranty
2 Years Onsite Parts/Labor
Accessories
Included
Quick Setup Guide, Warranty Card, Power Cord, CD Manual, Remote Controller (Retail)
Green Management
Energy Star V 5.3 Compliant
Yes
Emission Standard
FCC
Packaging Recyclability
Packing Materials Recyclable
RoHS Compliant
Yes
Connectivity

Component/AV in
RS-232 In
AV2
USB
HDMI x 3
Digital Audio Out
PC/DVI Audio In
PC In
Audio Out
ANT In
Compare:
H Series HDTV Commercial Displays
Model Number
H32B
H40B
H46B
Display
Screen Size
32" Wide
40" Wide
46" Wide
Display Type
Direct Lit LED
Direct Lit LED
Direct Lit LED
Resolution
1366 x 768
1920 x 1080
1920 x 1080
Aspect Ratio
16:9
16:9
16:9
Brightness
300 nits
300 nits
300 nits
Contrast Ratio (Typical/Dynamic)
3500:1/Mega Infinity
3500:1/Mega Infinity
3500:1/Mega Infinity
Viewing Angle (Horizontal/Vertical)
178˚/178˚ (CR>10)
178˚/178˚ (CR>10)
178˚/178˚ (CR>10)
Response Time
8ms (GTG)
8ms (GTG)
8ms (GTG)
Connectivity
Input
HDMI x 3 (1 HDMI supports DVI) Component (CVBS Common), AV2, ANT In, USB, PC/DVI Audio In, Component Audio In, AV Audio In
HDMI x 3 (1 HDMI supports DVI) Component (CVBS Common), AV2, ANT In, USB, PC/DVI Audio In, Component Audio In, AV Audio In
HDMI x 3 (1 HDMI supports DVI) Component (CVBS Common), AV2, ANT In, USB, PC/DVI Audio In, Component Audio In, AV Audio In
Output
Digital Audio Out (Optical), Audio Out
Digital Audio Out (Optical), Audio Out
Digital Audio Out (Optical), Audio Out
External Control
RS232 thru Stereo Jack
RS232 thru Stereo Jack
RS232 thru Stereo Jack
Power
Voltage
AC 100 - 240 VAC (+/- 10 %), 60/50 Hz
AC 100 - 240 VAC (+/- 10 %), 60/50 Hz
AC 100 - 240 VAC (+/- 10 %), 60/50 Hz
Power Supply Type
Built-In
Built-In
Built-In
Power Consumption (Typical/Max)
40W/54W
44W/87W
53W/95W
Power Consumption (Standby)
< 0.3W
< 0.3W
< 0.3W
Environmental
Operating Temperature
0°C~ 40°C
0°C~ 40°C
0°C~ 40°C
Operating Humidity
10~80%
10~80%
10~80%
Features
Special
Built in Speaker, Plug and Play (through USB), PIP/PBP, Narrow Bezel, Light Weight, Built-in Button Lock
Built in Speaker, Plug and Play (through USB), PIP/PBP, Narrow Bezel, Light Weight, Built-in Button Lock
Built in Speaker, Plug and Play (through USB), PIP/PBP, Narrow Bezel, Light Weight, Built-in Button Lock
Tuner
ATSC/NTSC/QAM
ATSC/NTSC/QAM
ATSC/NTSC/QAM
Media Player
USB Auto Play (Movie, Picture, Audio, No scheduling)
USB Auto Play (Movie, Picture, Audio, No scheduling)
USB Auto Play (Movie, Picture, Audio, No scheduling)
VESA Standard Wall Mount Interface
200 x 200mm
200 x 200mm
200 x 400mm
Dimensions
Packaging Dimensions (without stand)
29.1" x 17.2" x 3.7"
36.5" x 21.7" x 3.7"
41.7" x 24.6" x 3.7"
Product Dimensions (W x H x D)
35.5" x 20.9" x 6.4"
43.5" x 25.2" x 6.5"
48.7" x 28.5" x 6.5"
Bezel Width
17.7mm L/R/T (21.2mm Bottom)
18.5mm L/R/T (29.3mm Bottom)
18.5mm L/R/T (29.7mm Bottom)
Weight
Product Weight
13.9 lbs.
24.2 lbs.
30.8 lbs.
Shipping Weight
17.2 lbs.
29.5 lbs.
35.4 lbs.
Service
Standard Warranty
2 Years Onsite Parts/Labor
2 Years Onsite Parts/Labor
2 Years Onsite Parts/Labor
Accessories
Included
Quick Setup Guide, Warranty Card, Power Cord, CD Manual, Remote Controller (Retail)
Quick Setup Guide, Warranty Card, Power Cord, CD Manual, Remote Controller (Retail)
Quick Setup Guide, Warranty Card, Power Cord, CD Manual, Remote Controller (Retail)
Green Management
Energy Star V 5.3 Compliant
Yes
Yes
Yes
Emission Standard
FCC
FCC
FCC
Packaging Recyclability
Packing Materials Recyclable
Packing Materials Recyclable
Packing Materials Recyclable
RoHS Compliant
Yes
Yes
Yes
Connectivity

Component/AV in
RS-232 In
AV2
USB
HDMI x 3
Digital Audio Out
PC/DVI Audio In
PC In
Audio Out
ANT In