Samsung DM75E - DM-E Series 75" Slim Direct-Lit LED Display

All combined with a sleek industrial design and slim 2.2" chassis depth.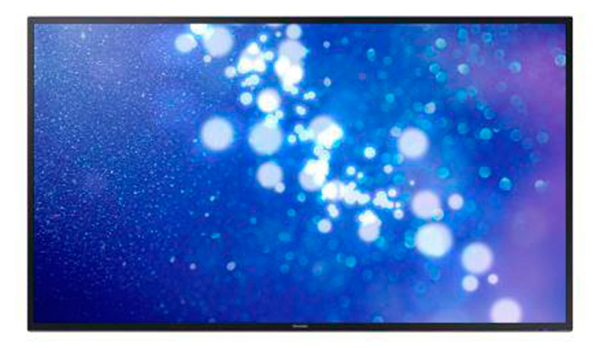 Overview:
Samsung's DM75E delivers 24/7 reliability on a large 75" screen for continuous operation. Display content without an external PC thanks to an upgraded Samsung SMART Signage Platform (SSP) and full range of connectivity options. All combined with a sleek industrial design and slim 2.2" chassis depth.
Reliable 24/7 operation and enhanced System-on-Chip performance with a quad core CPU
Built-In Wi-Fi® for expanded connectivity and simple content mirroring from mobile devices
Transform your display with an optional touch overlay for a PC-less touch solution
Slim 2.2" chassis depth with slim direct-lit LED technology
Features
Large Signage With Reliable 24/7 Operation
Innovative Samsung cooling technologies on these large-size displays allow your message to be displayed with highly reliable 24/7 continuous operation, so your business can meet around the clock operating requirements.
Built-In Wi-Fi®
Enjoy the versatility of expanded connectivity to mobile devices, from easy media sharing and screen control to simple content mirroring from a tablet or mobile phone to your display.
Enhanced System-on-Chip Performance with a Quad Core CPU
Powered by a System-on-Chip (SoC) semiconductor and quad core CPU with 8GB of storage, Samsung's SMART Signage Platform is an open and integrated player side media platform that provides a powerful, streamlined solution to reduce TCO for digital signage deployments, through savings in hardware, installation and operating costs.
Easy Content Control
The Samsung SMART Signage platform eliminates the need for an external media player. With Samsung MagicInfo content management software, selecting and scheduling software is simple to control with either an RS232 or LAN connection. Additionality connectivity includes HDMI, USB and D-Sub (analog).
Sleek Industrial Design With Slim Direct-Lit LED Technology
Achieve sharp, detail-rich images and crisp, legible type with this slim direct-lit display featuring 1920 x 1080 Full HD resolution with 450 nits brightness and a 5,000:1 contrast ratio. A 2.2" chassis depth provides a sleek, elegant look. And LED technology reduces power consumption and heat ouput.
Optional Touch Overlay
The optional touch overlay accessory delivers a cost effective, PC-less touch solution that transforms your display into an interactive whiteboard with up to 10 simultaneous touchpoints. Create more collaborative presentations or a dynamic customer experience with tangible results for your business.
Specifications:
Samsung DM75E - DM-E Series 75" Slim Direct-Lit LED Display Specifications
Display
Screen Size
75"
Panel Technology
60Hz Slim D-LED BLU
Resolution
1920x1080 (16:9)
Brightness
450 nits
Contrast Ratio
5000:1
Viewing Angle (Horizontal/Vertical)
178° / 178°
Orientation
Landscape / Portrait
Response Time (G-to-G)
4ms
Connectivity
Input
Analog D-SUB, DVI-D (HDMI Common), DisplayPort 1.2, HDMI1, HDMI2 (thru DVI-D Input, Adapter Not Included), Component (CVBS Common) Stereo Mini Jack, USB 2.0 x 1
Output
DisplayPort 1.2 (Loop-Out), Stereo Mini Jack
External Control
RS232C (In/Out) thru Stereo Jack, RJ45
External Sensor
IR, Ambient Light
Sound
Speaker Type
Built in Speaker (10W + 10W)
Power
Power Supply
AC 100 - 240 V~ (+/- 10 %), 50/60 Hz
Power Consumption (Typical/Max)
110W / 308W
Power Consumption (Standby)
< 0.5W
Environmental Conditions
Operating Temperature
0°C - 40°C
Operating Humidity
10%~80%
Features
Slim and Light LFD with Built-in MagicInfo Player S3
Special
Hardware Super Clear Coating, Temperature Sensor, Video Wall (15x15), Portrait Mode, Clock Battery (168hrs Clock Keeping), Built in Speaker (10W x 2), WiFi Module Embedded, SD Card Slot
Software Magic Clone (to USB), Auto Source Switching & Recovery, RS232C/RJ45 MDC, Plug and Play (DDC2B), PIP/PBP, Image Rotation, 1 Button Lock, DP 1.2 Digital Display Chain (HDCP Support), Built-in MagicInfo S3, Firmware Update by Network, LFD New Home Screen, PC-Less Videowall, Predefined Template for Vertical Usage, Multi Channel, Mobile Control, Event Schedule, Backup Player, PC-less Touch, MagicPresenter
Tuner
L1 (I/D) : 32KB / 32KB L2 (Unified) : 1MB
SMART Signage Platform Compliant
Yes
Internal Media Player
Cortex-A9 1GHz Quad Core, 1.5GB DDR3, 8GB Storage, USB 2.0, Samsung Proprietary OS (VDLinux)
VESA Standard Wall Mount Interface
400 x 400mm
24/7 Operation
Yes
Dimensions
Product Dimensions (without stand)
66.0" x 37.8" x 2.3"
Packaging Dimensions
71.3" x 42.7" x 9.8"
Bezel Width
12.0mm (Top, Left), 17.3mm (Right, Bottom)
Weight
Product Weight
75.2 lbs.
Shipping Weight
97.2 lbs.
Service
Standard Warranty
3 Years On-Site (Parts / Labor / Backlight)
Accessories
Included
Quick Setup Guide, Regulatory Guide, Warranty Card, D-Sub Cable, Power Cord, Remote Controller, Batteries, RS232C (IN) Adapter, Cover-Jack
Optional Mount
WMN4675MD, WMN4277SD, WMN6575SD, CML450D (Ceiling Mount)
Optional Stand
STN-L7585F (New Stand)
External Media Player
SBB (Optional), PIM (Optional)
Optional Touch Overlay
CY-TD75LDAF
Green Management
Emission Standard
EMC
ENERGY STAR® 6.0 Compliant
N/A
RoHS Compliant
Yes
Packaging Recyclability
Packing Materials Recyclable
Compare:
Samsung DM75E - DM-E Series 75" Slim Direct-Lit LED Display
Model Number
DM65E
DM75E
Display
Screen Size
65"
75"
Panel Technology
60Hz Slim D-LED BLU
60Hz Slim D-LED BLU
Resolution
1920x1080 (16:9)
1920x1080 (16:9)
Brightness
450 nits
450 nits
Contrast Ratio
4000:1
5000:1
Viewing Angle (Horizontal/Vertical)
178° / 178°
178° / 178°
Orientation
Landscape / Portrait
Landscape / Portrait
Response Time (G-to-G)
6.5ms
4ms
Connectivity
Input
Analog D-SUB, DVI-D (HDMI Common), DisplayPort 1.2, HDMI1, HDMI2 (thru DVI-D Input, Adapter Not Included), Component (CVBS Common) Stereo Mini Jack, USB 2.0 x 1
Output
DisplayPort 1.2 (Loop-Out), Stereo Mini Jack
DisplayPort 1.2 (Loop-Out), Stereo Mini Jack
External Control
RS232C (In/Out) thru Stereo Jack, RJ45
RS232C (In/Out) thru Stereo Jack, RJ45
External Sensor
IR, Ambient Light
IR, Ambient Light
Sound
Speaker Type
Built in Speaker (10W + 10W)
Built in Speaker (10W + 10W)
Power
Power Supply
AC 100 - 240 V~ (+/- 10 %), 50/60 Hz
Power Consumption (Typical/Max)
110W / 264W
110W / 308W
Power Consumption (Standby)
< 0.5W
< 0.5W
Environmental Conditions
Operating Temperature
0°C - 40°C
0°C - 40°C
Operating Humidity
10%~80%
10%~80%
Features
Slim and Light LFD with Built-in MagicInfo Player S3
Slim and Light LFD with Built-in MagicInfo Player S3
Special
Hardware
Super Clear Coating, Temperature Sensor, Video Wall (15x15), Portrait Mode, Clock Battery (168hrs Clock Keeping), Built in Speaker (10W x 2), WiFi Module Embedded, SD Card Slot
Software
Magic Clone (to USB), Auto Source Switching & Recovery, RS232C/RJ45 MDC, Plug and Play (DDC2B), PIP/PBP, Image Rotation, 1 Button Lock, DP 1.2 Digital Display Chain (HDCP Support), Built-in MagicInfo S3, Firmware Update by Network, LFD New Home Screen, PC-Less Videowall, Predefined Template for Vertical Usage, Multi Channel, Mobile Control, Event Schedule, Backup Player, PC-less Touch, MagicPresenter
Tuner
L1 (I/D) : 32KB / 32KB L2 (Unified) : 1MB
L1 (I/D) : 32KB / 32KB L2 (Unified) : 1MB
SMART Signage Platform Compliant
Yes
Yes
Internal Media Player
Cortex-A9 1GHz Quad Core, 1.5GB DDR3, 8GB Storage, USB 2.0, Samsung Proprietary OS (VDLinux)
VESA Standard Wall Mount Interface
400 x 400mm
400 x 400mm
24/7 Operation
Yes
Yes
Dimensions
Product Dimensions (without stand)
57.8" x 33.4" x 2.2"
66.0" x 37.8" x 2.3"
Packaging Dimensions
63.0" x 38.6" x 8.5"
71.3" x 42.7" x 9.8"
Bezel Width
18.0mm (Top, Left), 23.5mm (Right, Bottom)
12.0mm (Top, Left), 17.3mm (Right, Bottom)
Weight
Product Weight
60.4 lbs.
75.2 lbs.
Shipping Weight
78 lbs.
97.2 lbs.
Standard Warranty
3 Years On-Site (Parts / Labor / Backlight)
Accessories
Included
Quick Setup Guide, Regulatory Guide, Warranty Card, D-Sub Cable, Power Cord, Remote Controller, Batteries, RS232C (IN) Adapter, Cover-Jack
Optional Mount
WMN4675MD, WMN4277SD, WMN6575SD, CML450D (Ceiling Mount)
WMN4675MD, WMN4277SD, WMN6575SD, CML450D (Ceiling Mount)
Optional Stand
STN-L6500E
STN-L7585F (New Stand)
External Media Player
SBB (Optional), PIM (Optional)
SBB (Optional), PIM (Optional)
Optional Touch Overlay
TE65ECD
CY-TD75LDAF
Green Management
Emission Standard
EMC
EMC
ENERGY STAR® 6.0 Compliant
N/A
N/A
RoHS Compliant
Yes
Yes
Packaging Recyclability
Packing Materials Recyclable
Packing Materials Recyclable