Samsung DB10D - DB-D Series 10" Edge-Lit LED Display

The 10" Display That Really Attracts An Audience.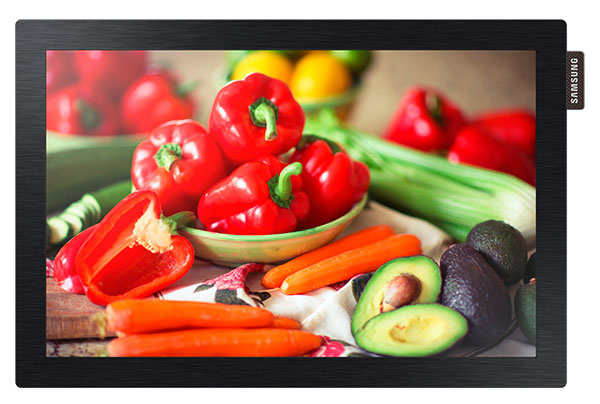 Overview:
Samsung's DB10D provides a fully embedded solution to manage digital signage content without connecting external devices, thanks to the Samsung SMART Signage Platform (SSP). The 10" form factor fits small placements, while high resolution delivers sharp, stunning images.
All-in-One Solution Thanks to SSP with a Quad Core Processor and MagicInfo Software
Sleek Industrial Design with a 10" Form Factor for Small Placements
Slim 0.98" Chassis Depth with Edge-Lit LED Backlight Technology
Reliable Operation with 2 Year Onsite Warranty
Features
Enhanced SSP with Quad Core Processor
Experience enhanced System-on-Chip (SoC) performance with a quad core processor. SMART Signage Platform (SSP) is an integrated, open platform providing a powerful streamlined solution to reduce TCO in digital signage deployments through savings in hardware installation and operating costs.
All-in-One Solution
The DB10D features SSP enabled with media player functionality via SoC, built-in processing, built-in power control and MagicInfo content management software for an all-in-one digital signage solution that allows users to effectively and efficiently coordinate their signage.
Sleek Industrial Design
Edge-Lit LED technology delivers a sleek industrial design with a 0.98" chassis depth that is combined with a 10" form factor for an elegant look in small placements. LED can also also slim your TCO thanks to energy-efficiency.
Connectivity and Control
Discover versatile connectivity options to display a range of exceptional content that speaks to your audience. Connections include USB, HDMI and WiFi embedded and external control capability via RS232C or RJ45 LAN. Built-in WiFi allows you to eliminate LAN cables for simpler installation.
Adapts to Your Business
Small shops, shopping malls and large chain stores can utilize the DB10D as a shelf-level or endcap solution. Enterprises can share agenda or meeting room information outside of conference rooms. In public spaces, advertising or floor level information can be displayed on the inside of an elevator.
Specifications:
Samsung DB10D - DB-D Series 10" Edge-Lit LED Display Specifications
Display
Screen Size
10.1"
Panel Technology
60Hz Edge-lit LED
Resolution
1280x800
Brightness
450 nits
Contrast Ratio
900:1
Viewing Angle (Horizontal/Vertical)
178:178
Orientation
Landscape / Portrait
Response Time (G-to-G)
30ms
Connectivity
Input
HDMI
External Control
RS232C (in) thru Stereo Jack, RJ45
Power
Power Supply
AC 100 - 240 V~ (+/- 10 %), 50/60 Hz (External)
Power Consumption (Typical / Max)
18W / 18.7W
Power Consumption (Standby)
< 0.5W
Environmental Conditions
Operating Temperature
0°C ~ 40°C
Operating Humidity
10%~80%, non-condensing
Features
Special
Temperature Sensor, Portrait Installation Support, Button Lock, Clock Battery (80hrs Clock Keeping), Built in Speaker (1Wx1), WiFi Module Embedded, SD Card Slot, Magic Clone (to USB), Auto Source Switching & Recovery, RS232C/RJ45 MDC, Plug and Play (DDC2B), Image Rotation, Built In MagicInfo Player S2, Firmware Update by Network, LFD New Home Screen, Predefined Templates for Vertical Usage, Mobile Control, Event Schedule, Backup Player
Touch Enabled
No
SMART Signage Platform Compliant
Yes
Internal Media Player
Cortex-A9 1GHz Quad Core, 1.0GB DDR3, 4GB FDM, USB 2.0, Linux OS
VESA Standard Wall Mount Interface
50 x 50mm
Dimensions
Product Dimensions (without stand)
9.7" x 6.5" x .98"
Packaging Dimensions
14.4" x 8.1" x 2.8"
Bezel Width
14.1mm
Weight
Product Weight
1.3 lbs
Shipping Weight
2.6 lbs
Service
Standard Warranty
2 Years On-Site (Parts / Labor / Backlight)
Accessories
Included
Quick Setup Guide, Warranty Card, Regulatory Guide, Power Cord, Power Adapter, Remote Controller, Batteries, RS232C-Stereo Cable, Stand Bar
Green Management
Emission Standard
EMC
RoHS Compliant
Yes
Packaging Recyclability
Packing Materials Recyclable
Connectivity
Compare:
Samsung DB-D Series Small Signage LED LCD Displays Comparison
Model Number
DB10D
DB22D-P
DB22D-T (Touchscreen)
Display
Screen Size
10.1"
21.5"
21.5"
Panel Technology
60Hz Edge-lit LED
60Hz Slim D-LED BLU
60Hz Slim D-LED BLU
Resolution
1280x800
1920 x 1080 (16:9)
1920 x 1080 (16:9)
Brightness
450 nits
250 nits
250 nits
Contrast Ratio
900:1
1000:1
1000:1
Viewing Angle (Horizontal/Vertical)
178:178
178:178
178:178
Orientation
Landscape / Portrait
Landscape / Portrait
Landscape / Portrait
Response Time (G-to-G)
30ms
5ms
5ms
Connectivity
Input
HDMI
Video: VGA (D-Sub 15 Pin), HDMI, Audio: Stereo Mini Jack
Video: VGA (D-Sub 15 Pin), HDMI, Audio: Stereo Mini Jack
External Control
RS232C (in) thru Stereo Jack, RJ45
RS232C (in) thru Stereo Jack, RJ45
RS232C (in) thru Stereo Jack, RJ45
Power
Power Supply
AC 100 - 240 V~ (+/- 10 %), 50/60 Hz (External)
AC 100 - 240 V~ (+/- 10 %), 50/60 Hz
AC 100 - 240 V~ (+/- 10 %), 50/60 Hz
Power Consumption (Typical / Max)
18W / 18.7W
40W / 44W
40W / 44W
Power Consumption (Standby)
< 0.5W
< 0.5W
< 0.5W
Environmental Conditions
Operating Temperature
0°C ~ 40°C
0°C ~ 40°C
0°C ~ 40°C
Operating Humidity
10%~80%, non-condensing
10%~80%
10~80%
Features
Special
Temperature Sensor, Portrait Installation Support, Button Lock, Clock Battery (80hrs Clock Keeping), Built in Speaker (1Wx1), WiFi Module Embedded, SD Card Slot, Magic Clone (to USB), Auto Source Switching & Recovery, RS232C/RJ45 MDC, Plug and Play (DDC2B), Image Rotation, Built In MagicInfo Player S2, Firmware Update by Network, LFD New Home Screen, Predefined Templates for Vertical Usage, Mobile Control, Event Schedule, Backup Player
Temperature Sensor, Pivot Display, Image Rotation, Button Lock, Clock Battery (80hrs Clock Keeping), Built in Speaker (1Wx2), WiFi Module Embedded, Magic Clone (to USB), Auto Source Switching & Recovery, RS232C/RJ45 MDC, Plug and Play (DDC2B), PIP/PBP, Smart Scheduling, Smart F/W Update, Built In MagicInfo Player S2
Touch (10 Point, 2 Drawing), Temperature Sensor, Pivot Display, Image Rotation, Button Lock, Clock Battery (80hrs Clock Keeping), Built in Speaker (1Wx2), WiFi Module Embedded, Magic Clone (to USB), Auto Source Switching & Recovery, RS232C/RJ45 MDC, Plug and Play (DDC2B), PIP/PBP, Smart Scheduling, Smart F/W Update, Built In MagicInfo Player S2
Touch Enabled
No
No
Yes
SMART Signage Platform Compliant
Yes
Yes
Yes
Internal Media Player
Cortex-A9 1GHz Quad Core, 1.0GB DDR3, 4GB FDM, USB 2.0, Linux OS
Cortex-A9 1GHz Quad Core, 1.5GB DDR3, 4GB FDM, USB 2.0, Linux OS
Cortex-A9 1GHz Quad Core, 1.5GB DDR3, 4GB FDM, USB 2.0, Linux OS
VESA Standard Wall Mount Interface
50 x 50mm
100 x 100mm
100 x 100mm
Dimensions
Product Dimensions (without stand)
9.7" x 6.5" x .98"
20.0" x 12.3" x 2.27"
20.0" x 12.3" x 2.33"
Packaging Dimensions
14.4" x 8.1" x 2.8"
22.4" x 14.8" x 5.0"
22.4" x 14.8" x 5.0"
Bezel Width
14.1mm
17.5 (top),14.9 (side), 24.5 (bottom)
17.5 (top),14.9 (side), 24.5 (bottom)
Weight
Product Weight
1.3 lbs
7.9 lbs
9.7 lbs
Shipping Weight
2.6 lbs
10.8 lbs
12.5 lbs
Service
Standard Warranty
2 Years On-Site (Parts / Labor / Backlight)
3 Years On-Site (Parts / Labor / Backlight)
3 Years On-Site (Parts / Labor / Backlight)
Accessories
Included
Quick Setup Guide, Warranty Card, Regulatory Guide, Power Cord, Power Adapter, Remote Controller, Batteries, RS232C-Stereo Cable, Stand Bar
Quick Setup Guide, Warranty Card, D-Sub Cable, Power Cord, Remote Controller, Batteries
Quick Setup Guide, Warranty Card, D-Sub Cable, Power Cord, Remote Controller, Batteries
Green Management
Emission Standard
EMC
EMC
EMC
RoHS Compliant
Yes
Yes
Yes
Packaging Recyclability
Packing Materials Recyclable
Packing Materials Recyclable
Packing Materials Recyclable
Connectivity
DB10D
DB22D-P and DB22D-T