Samsung 690U Series 50" UHD Hospitality TV

Brilliant UHD picture quality and convenient room management that enable guests to enjoy the comforts of home.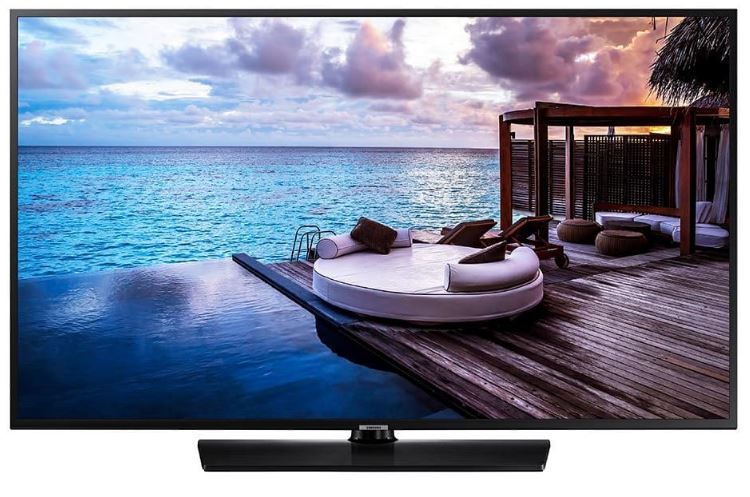 Samsung Products
Samsung 690U Series
Samsung 690U Series 50 in. Premium LED Hospitality TV for Guest Engagement
#HG50NJ690UFXZA
Our Price: $580.00
Overview:
Get a complete platform for a premium in-room experience with an at-home feel, at a cost that fits your budget. The clear, sharp picture of the 690U series will impress guests from the moment they power on the TV. With SMART TV features, guests can watch movies and TV shows from streaming services, and push content from their personal devices to the big screen. And with IP-based hospitality management solutions, you can enjoy more efficient guest interaction.
Direct-Lit LED technology for a premium, Ultra HD, experience
Powered by the Tizen OS, which enables system integrators to create fast, powerful and secure content
Conveniently manage content with Samsung LYNK REACH® 4.0
Seamlessly integrate smart devices into your management system with Samsung LYNK HMS
Features: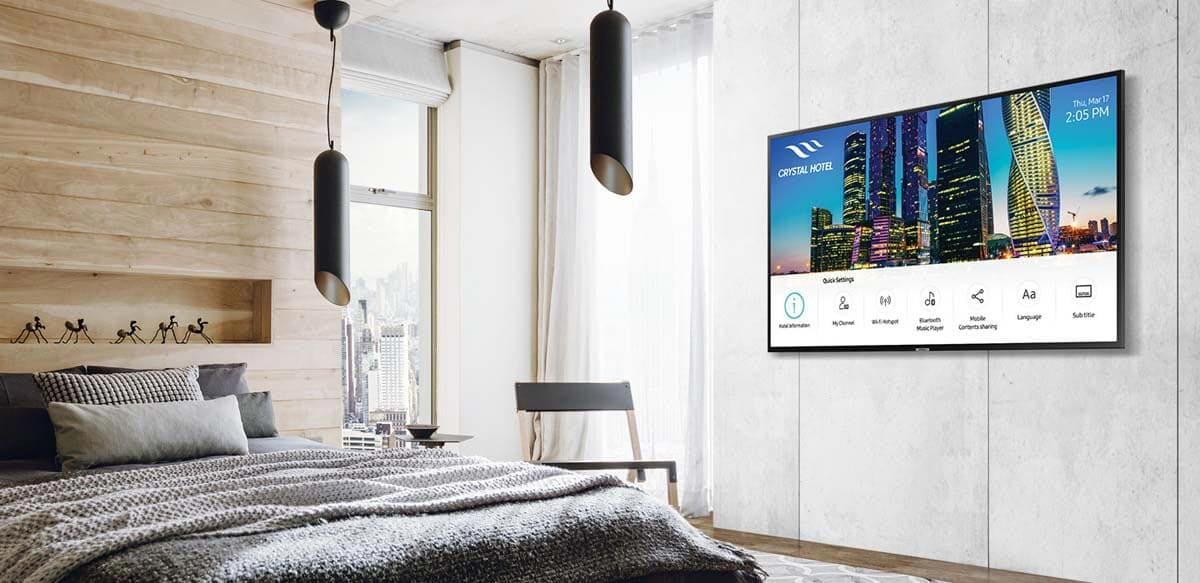 Foster a Premium Guest Experience
Samsung's HJ690U displays enable premium hotel operators to meet guests' rising expectations while improving their own efficiency. Through brilliant UHD picture quality and convenient room management, guests can enjoy the comforts of home and seamless two-way communication through their display.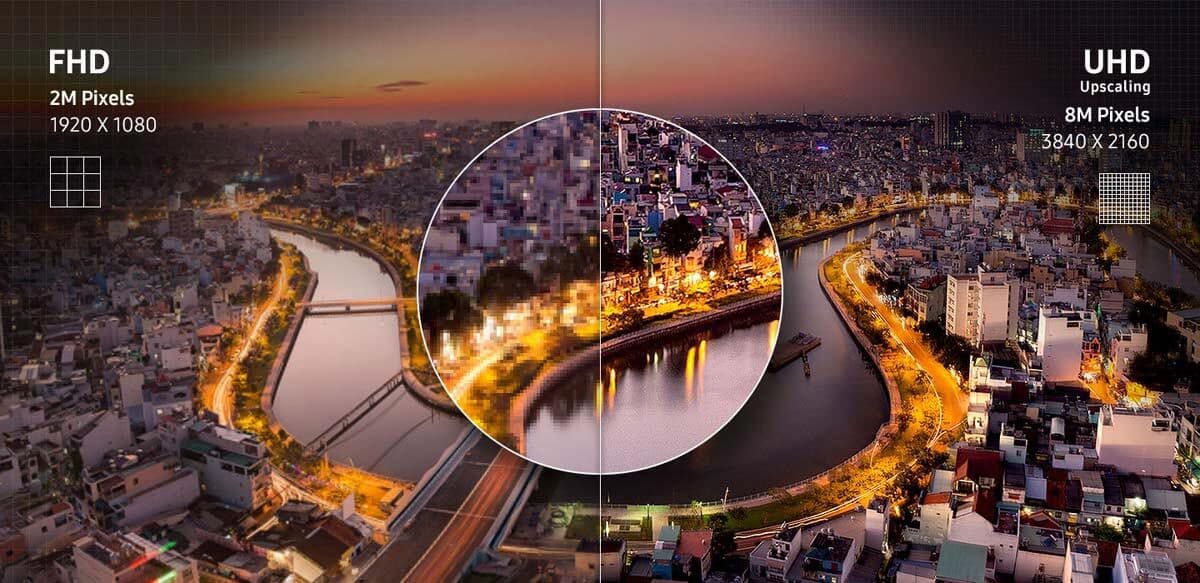 UHD-Quality Content Delivery
Samsung's hospitality displays offer hotel guests the vivid picture quality of home entertainment systems on their in-room screens. Through UHD upscaling technology, these refined displays showcase all content at UHD resolution (3,840 x 2,160), and with four times the pixels of the FHD standard.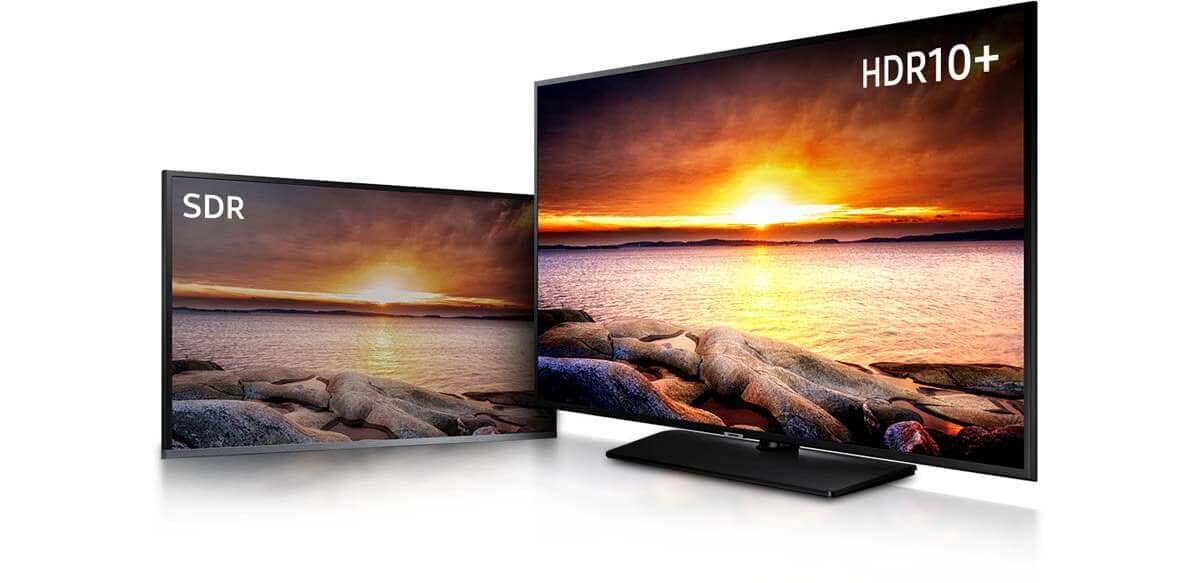 Refined Picture Quality
Beyond consistent UHD quality, Samsung's displays bring the power of High Dynamic Range (HDR10+) picture refinement to any hotel room. Using dynamic metadata that fine-tunes each frame within a given program, HDR10+ technology delivers an optimal, detail-rich and memorable viewing experience.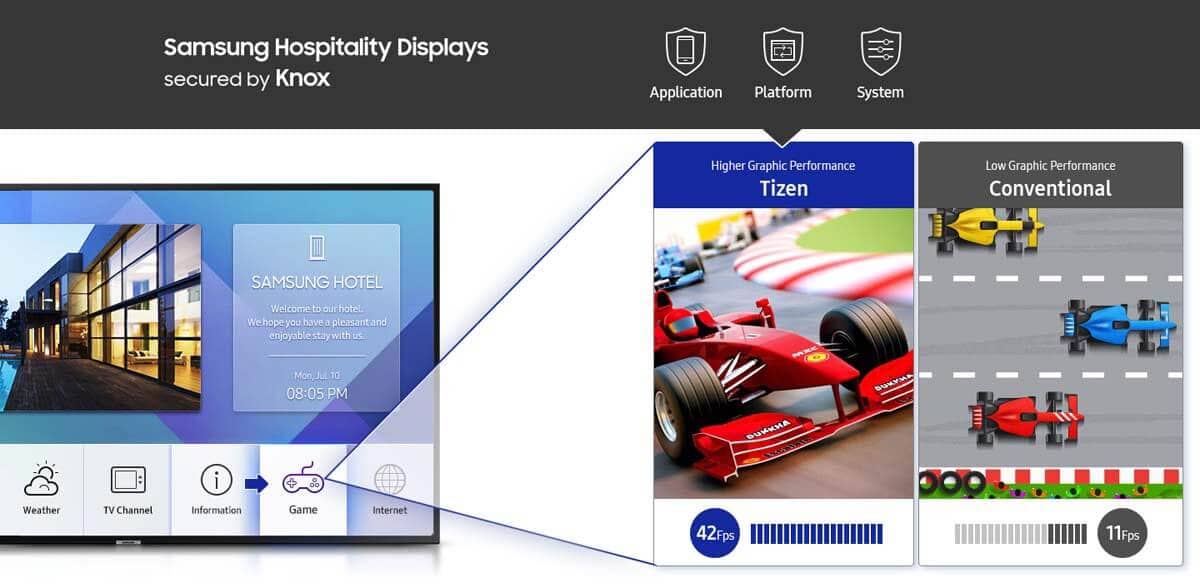 Powerful Performance, Enhanced Security
Backed by the powerful TIZEN operating system, Samsung hospitality displays reinforce secure content delivery across the application, platform and system layers. This rigid security also enables TIZEN's H.Browser technology to render 2D and 3D content and achieve faster upload and response times.
Specifications:
Model

43" HG43NJ690UF

50" HG50NJ690UF

55" HG55NJ690UF

65" HG65NJ690UF

75" HG75NJ690UF

Display

Backlight

LED

LED

LED

LED

LED

Screen Size

43

50

55

65

75

Resolution

3,840 x 2,160

3,840 x 2,160

3,840 x 2,160

3,840 x 2,160

3,840 x 2,160

Video

Picture Engine

UHD Mastering Engine

UHD Mastering Engine

UHD Mastering Engine

UHD Mastering Engine

UHD Mastering Engine

Micro Dimming

N/A

N/A

N/A

N/A

N/A

Auto Motion Plus

Yes

Yes

Yes

Yes

Yes

Film Mode

Yes

Yes

Yes

Yes

Yes

Audio

Dolby Digital Plus

Yes

Yes

Yes

Yes

Yes

DTS Codec

N/A

N/A

N/A

N/A

N/A

Sound Output (RMS)

20W

20W

20W

20W

20W

Speaker Type

2CH

2CH

2CH

2CH

2CH

Woofer

N/A

N/A

N/A

N/A

N/A

Smart TV

Samsung SMART TV

Smart

Smart

Smart

Smart

Smart

Convergence

TV to Mobile - Mirroring

N/A

N/A

N/A

N/A

N/A

Mobile to TV - Mirroring, DLNA

Yes

Yes

Yes

Yes

Yes

General Feature

Processor

Quad-Core

Quad-Core

Quad-Core

Quad-Core

Quad-Core

Accessibility

Voice Guide(US English)/ Enlarge/ High Contrast/ Learn TV Remote(US English)/ Multi- output Audio

Voice Guide(US English)/ Enlarge/ High Contrast/ Learn TV Remote(US English)/ Multi- output Audio

Voice Guide(US English)/ Enlarge/ High Contrast/ Learn TV Remote(US English)/ Multi- output Audio

Voice Guide(US English)/ Enlarge/ High Contrast/ Learn TV Remote(US English)/ Multi- output Audio

Voice Guide(US English)/ Enlarge/ High Contrast/ Learn TV Remote(US English)/ Multi- output Audio

Digital Clean View

Yes

Yes

Yes

Yes

Yes

Auto Channel Search

Yes

Yes

Yes

Yes

Yes

Auto Power Off

Yes

Yes

Yes

Yes

Yes

Caption (Subtitle)

Yes

Yes

Yes

Yes

Yes

Connect Share™ (HDD)

Yes

Yes

Yes

Yes

Yes

ConnectShare™ (USB 2.0)

Yes

Yes

Yes

Yes

Yes

EPG

Yes

Yes

Yes

Yes

Yes

Game Mode

Yes

Yes

Yes

Yes

Yes

OSD Language

English, Spanish, French

English, Spanish, French

English, Spanish, French

English, Spanish, French

English, Spanish, French

Picture-In-Picture

N/A

N/A

N/A

N/A

N/A

BT HID Built-in

Yes

Yes

Yes

Yes

Yes

USB HID Support

Yes

Yes

Yes

Yes

Yes

Teletext (TTX)

N/A

N/A

N/A

N/A

N/A

System

Digital Broadcasting

ATSC/ClearQAM

ATSC/ClearQAM

ATSC/ClearQAM

ATSC/ClearQAM

ATSC/ClearQAM

Analog Tuner

Yes

Yes

Yes

Yes

Yes

CI (Common Interface)

N/A

N/A

N/A

N/A

N/A

Data Broadcasting

N/A

N/A

N/A

N/A

N/A

Hospitality Feature

Samsung LYNK™ HMS Compatibil- ity

Yes

Yes

Yes

Yes

Yes

H.Browser Compatibility

Yes

Yes

Yes

Yes

Yes

Samsung LYNK™ REACH (IP)

REACH 4.0

REACH 4.0

REACH 4.0

REACH 4.0

REACH 4.0

Samsung LYNK™ REACH (RF)

REACH 4.0

REACH 4.0

REACH 4.0

REACH 4.0

REACH 4.0

Hospitality Home Menu

Home Menu 2017

Home Menu 2017

Home Menu 2017

Home Menu 2017

Home Menu 2017

Bluetooth Music Player (Mobile →

TV)

Yes

Yes

Yes

Yes

Yes

Hospitality Plug&Play (Easy Set- up)

Yes

Yes

Yes

Yes

Yes

Auto Source Mode

Yes

Yes

Yes

Yes

Yes
Samsung Products
Samsung 690U Series
Samsung 690U Series 50 in. Premium LED Hospitality TV for Guest Engagement
#HG50NJ690UFXZA
Our Price: $580.00