Samsung 690 Series 32" Hospitality TV

A SMART hospitality TV providing a premium guest experience that fits your budget.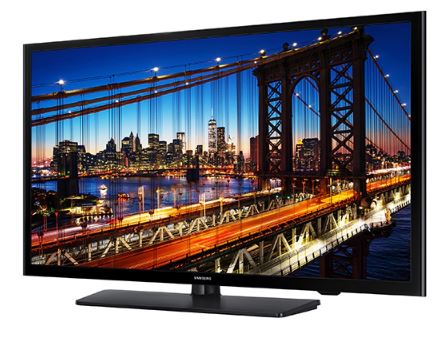 Samsung Products
Samsung 690 Series
Samsung 690 Series 32 in. Premium LED Hospitality TV for Guest Engagement
#HG32NF690GFXZA
Our Price: $345.00
Overview:
Get a complete platform for a premium in-room experience with an at-home feel, at a cost that fits your budget. The clear, sharp picture of the 690 series will impress guests from the moment they power on the TV. With SMART TV features, guests can watch movies and TV shows from streaming services, and push content from their personal devices to the big screen. And with IP-based hospitality management solutions, you can enjoy more efficient guest interaction.
Direct-Lit LED technology for a premium, yet affordable, experience
Powered by the Tizen OS, which enables system integrators to create fast, powerful and secure content
Conveniently manage content with Samsung LYNK REACH® 4.0
Seamlessly integrate smart devices into your management system with Samsung LYNK HMS
Features: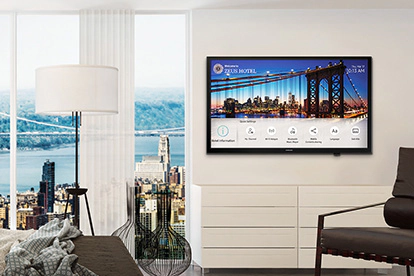 Premium and Affordable with Direct-Lit LED
Direct-lit LED technology delivers a premium, Full HD viewing experience. Colors are rich and bright, and images and text are crisp and sharp. Plus, direct-lit LED technology does it with an efficiency that makes it more affordable. In fact, it's possible to upgrade your rooms to LED technology for a cost comparable to traditional CCFL technology.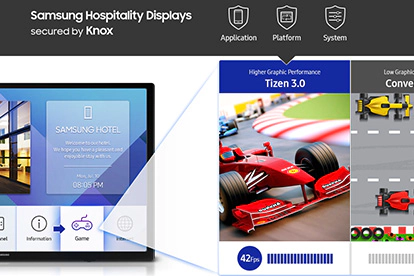 Tizen OS Delivers Power and Speed
This hospitality TV is powered by our new Tizen OS. It allows system integrators to create advanced graphics with fast rendering speeds, for a sleek, impressive viewing experience. Tizen also offers exceptional security to ensure your business technology remains safe and protected.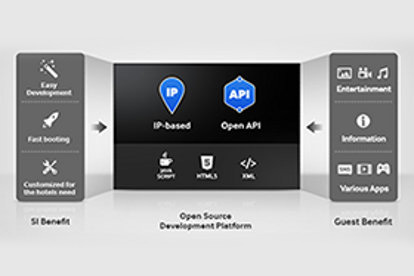 H-Browser Compatibility
Enabled by Tizen, H-Browser is a true SMART TV solution that allows exceptional flexibility for content development, so that certified system integrators can create smart hospitality solutions. It features both free and video on demand (VOD) content, and is able to interface directly with the head end without a set top box.
Specifications:
HG32NF690GFXZA

HG40NF690GFXZA

HG43NF690GFXZA

HG49NF690GFXZA

Display

Backlight

LED

LED

LED

LED

Screen Size (Diagonal)

32"

40"

43"

49"

Resolution

1920 x 1080 (FHD)

1920 x 1080 (FHD)

1920 x 1080 (FHD)

1920 x 1080 (FHD)

Video

Picture Engine

HyperReal

HyperReal

HyperReal

HyperReal

PQI (Picture Quality Index)

400

400

400

400

Wide Color Enhancer (Plus)

Yes

Yes

Yes

Yes

Film Mode

Yes

Yes

Yes

Yes

Natural Mode Support

Yes

Yes

Yes

Yes

Audio

Dolby Digital Plus

Yes

Yes

Yes

Yes

Sound Output (RMS)

10W (L:5W, R:5W)

20W (L:10W, R:10W)

20W (L:10W, R:10W)

20W (L:10W, R:10W)

Speaker Type

2CH (Down Firing + Base Reflex)

2CH (Down Firing + Base Reflex)

2CH (Down Firing + Base Reflex)

2CH (Down Firing + Base Reflex)

Bluetooth Audio

Yes

Yes

Yes

Yes

Smart Features

Smart TV Type

Smart

Smart

Smart

Smart

Web Browser

Yes

Yes

Yes

Yes

Samsung Smart View

Yes

Yes

Yes

Yes

Mobile to TV - Mirroring, DLNA

Yes

Yes

Yes

Yes

Wired TV On - Samsung WOL

Yes

Yes

Yes

Yes

Features

Processor

Quad-Core

Quad-Core

Quad-Core

Quad-Core

Accessibility

Voice Guide / Enlarge / High Contrast / Multi-Output Audio

Voice Guide / Enlarge / High Contrast / Multi-Output Audio

Voice Guide / Enlarge / High Contrast / Multi-Output Audio

Voice Guide / Enlarge / High Contrast / Multi-Output Audio

Digital Clean View

Yes

Yes

Yes

Yes

Auto Channel Search

Yes

Yes

Yes

Yes

Auto Power Off

Yes

Yes

Yes

Yes

Caption (Subtitle)

Yes

Yes

Yes

Yes

ConnectShare™ (HDD)

Yes

Yes

Yes

Yes

ConnectShare™ (USB 2.0)

Yes

Yes

Yes

Yes

EPG

Yes

Yes

Yes

Yes

Game Mode

Yes

Yes

Yes

Yes

OSD Language

English, Spanish, French

English, Spanish, French

English, Spanish, French

English, Spanish, French

BT HID Support

Yes

Yes

Yes

Yes

USB HID Support

Yes

Yes

Yes

Yes

V-Chip

Yes

Yes

Yes

Yes

System

Digital Broadcasting

ATSC / ClearQAM

ATSC / ClearQAM

ATSC / ClearQAM

ATSC / ClearQAM

Analog Tuner

Yes

Yes

Yes

Yes

Hospitality Features

Samsung LYNK™ HMS Compatibility

Yes

Yes

Yes

Yes

H.Browser

Yes

Yes

Yes

Yes

Samsung LYNK™ REACH (IP)

REACH 4.0

REACH 4.0

REACH 4.0

REACH 4.0

Samsung LYNK™ REACH (RF)

REACH 4.0

REACH 4.0

REACH 4.0

REACH 4.0

Hospitality Home Menu

Home Menu 2017

Home Menu 2017

Home Menu 2017

Home Menu 2017

Bluetooth Music Player (Mobile → TV)

Yes

Yes

Yes

Yes

Hospitality Plug & Play (Easy Set-up)

Yes

Yes

Yes

Yes

Auto Source Mode

Yes

Yes

Yes

Yes

Power On Mode

Yes

Yes

Yes

Yes

Hotel Channel List

Yes

Yes

Yes

Yes

Channel Menu Display

Yes

Yes

Yes

Yes

Mixed Channel List (ATSC, DVB-T / T2 / C / S2, Analog)

Yes

Yes

Yes

Yes

My Channel

Yes

Yes

Yes

Yes

Energy Saving Mode (BLU Control)

Yes

Yes

Yes

Yes

Logo Display with Time Out Setting (BMP / Movie)

Yes

Yes

Yes

Yes

Welcome Message

Yes

Yes

Yes

Yes

RJ12 / IR Pass Through

Yes

Yes

Yes

Yes

Clock Back Up Supply

Yes

Yes

Yes

Yes

Multi Code Remote Control

Yes

Yes

Yes

Yes

Sound Bar Compatibility

Yes

Yes

Yes

Yes

Music Mode (Input: PC / AV / Component / HDMI)

Yes

Yes

Yes

Yes

Music Mode Backlight On / Off

Yes

Yes

Yes

Yes

USB Cloning

Yes

Yes

Yes

Yes

Smoovie Compatibility

Yes

Yes

Yes

Yes

Soft AP

Yes

Yes

Yes

Yes

On / Off Timer (Schedule)

Yes

Yes

Yes

Yes

Alarm/Wake-Up Timer

Yes

Yes

Yes

Yes

Samsung LYNK™ DRM RF

Yes

Yes

Yes

Yes

Samsung LYNK™ DRM IP

Yes

Yes

Yes

Yes

Pro:Idiom RF

Yes

Yes

Yes

Yes

Pro:Idiom IP

Yes

Yes

Yes

Yes

Security Mode

Yes

Yes

Yes

Yes

S/W EPG (Solution EPG)

Yes

Yes

Yes

Yes
Samsung Products
Samsung 690 Series
Samsung 690 Series 32 in. Premium LED Hospitality TV for Guest Engagement
#HG32NF690GFXZA
Our Price: $345.00