Samsung MagicInfo Easy and Instant Content Management Solution

Create, manage, access and display media content easily and instantly through the MagicInfo solution.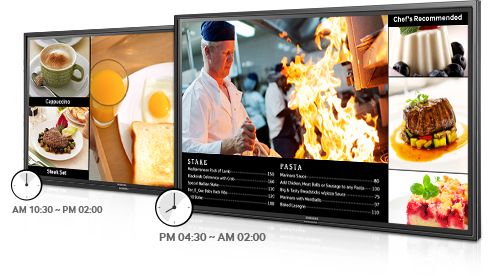 Samsung Products
Samsung MagicInfo
Magicboard 3.0 Interactive Whiteboard SW License
#BW-EDS30WWA
List Price:
$846.00
Our Price: $688.00
MagicInfo Data Link 3.0
#BW-MIE30DA
List Price:
$400.00
Our Price: $249.00
MagicInfo Premium Server For S Player 3.0
#BW-MIP30PS
List Price:
$600.00
Our Price: $499.00
MagicInfo Premium Server For I Player 3.0
#BW-MIP30PW
List Price:
$600.00
Our Price: $500.00
MagicInfo Video Wall-S Author License
#BW-MIV20AS
List Price:
$460.00
Our Price: $374.00
MagicInfo Video Wall-2 Author License
#BW-MIV20AW
List Price:
$654.00
Our Price: $532.00
MagicInfo Video Wall-S SVR License
#BW-MIV20SS
List Price:
$460.00
Our Price: $374.00
MagicInfo Video Wall-2 SW Server License
#BW-MIV20SW
List Price:
$654.00
Our Price: $532.00
More pricing below, click here!
What Is MagicInfo?:
MagicInfo is a smart, intuitive content creation and management solution available standard on Samsung Display Solutions products. MagicInfo equips end-users with a suite of creative tools built to facilitate content creation and display management. You can perform a range of functions, from creating eye-catching digital signage to designing and managing a complex, interactive multimedia display system.
MagicInfo is composed of three innovative components that provide integrated, end-to-end content creation and management features :
MagicInfo Player is Samsung's powerful in-house media player. This embedded software solution enables users to schedule and play a range of media files, which can be stored on the device's internal hard drive, a remote server, a set-back box, or a USB. Depending on your business needs, you can select one of MagicInfo Player's four editions, each of which has different functionality for different business environments.
MagicInfo Author allows you to custom build your digital signage using Samsung's professional design templates and script wizards. You can embed audio, video and text, set various resolutions and screen modes, edit animations and objects using drag-and-drop tools, organize content using a timeline to create interactive and creative digital signage
MagicInfo Server enables administrators to remotely monitor, manage and schedule media content. It also allows administrators to publish content remotely, using a web browser or smartphone app*. In case of system errors, technicians can also use the network to trouble shoot and fix malfunctions remotely.(*Smartphone application is available only with MagicInfo i Player)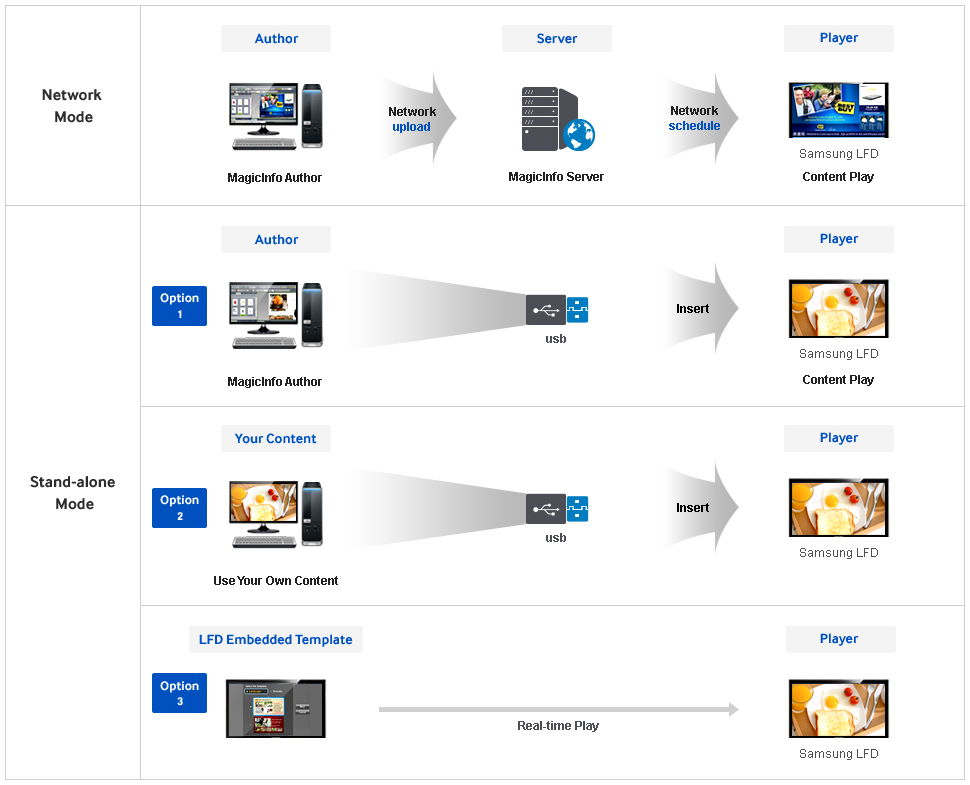 For Whom:
People who need:
More effective and convenient digital signage for simpler installation, operation, and maintenance of digital signage solutions
All-in-one digital signage management solution that controls both the display hardware and content
Support for all critical monitoring functions to eliminate the need for additional software
Usage Scenario
Businesses can now produce in-house digital signage at a fraction of the cost. MagicInfo's powerful authorship tools and easy-to-use content management system enable users to provide their customers with a compelling, custom-built media experience.
Small Businesses
A young woman has finally saved enough money to open her own interior design store in a hip urban neighborhood, but she needs to compete for customer attention with the other flashy businesses that line the street. She buys a Samsung display and uses MagicInfo Premium S to design digital signage that represents her creative style. As the business' sole employee, she appreciates Samsung's intuitive display management tools and easy content creation software because they reduce the number of things she has to worry about, making it easier to lead a more balanced life outside of work.
Service-Oriented Businesses
A local hospital succeeds in funding a new state-of-the-art cancer ward that will save thousands of lives every year. To publicize this important improvement, the hospital buys ten Samsung displays, which serve to both promote the new ward and display an interactive touchscreen map of the hospital. The displays are networked and managed remotely using MagicInfo Premium i. This system will save money by minimizing the amount of time required to update the content on the displays. This system will save money by minimizing the amount of time required to update the content on the displays.
Franchised Businesses
A fast food franchise has experienced robust growth over the last two years, expanding from 75 to 250 locations all around the country. Not wanting to dilute their brand identity, they decide to include Samsung display technology in their franchise package. Now, they are able to manage franchise-wide media and menu content from a single, centralized control hub, reducing overhead and improving service. They use this to deliver targeted, time-appropriate menu promotions that increase sales across the entire franchise network.
Large Corporations
An airport that used to mainly serve regional traffic has completed a major renovation and expansion campaign, and now it is positioned to become a major international hub. The airport administration purchases a Samsung video wall to show the world that they are a serious contender on the international stage. The airport requests a dynamic, asymmetrical layout for the video wall to really draw travelers' attention. MagicInfo Video Wall makes it possible for them to realize their vision by supporting creative display orientations and reducing maintenance overhead.
Features and Benefits:
Features
Benefits
Easy content creation tools

MagicInfo Premium S comes standard with pre-loaded content templates, so users can edit content easily using the display's embedded Template Manager tool. With Template Manager, users can create customized content in just a few minutes by entering text and selecting a content source to play from either internal memory or a USB drive.

MagicInfo Premium Author is an advanced content creation available to a user's PC at no additional cost. This powerful tool includes hundreds of clip art images and a custom template creation feature. The program's WYSIWYG (What You See Is What You Get) interface helps users arrange content as it will appear to viewers.

MagicInfo Video Wall Author is tailored to provide users with simplified content management on video wall installations. Users can choose to display one large image across the entire video wall or repeat the same image over several individual screens. The Video Wall Author also makes it easy to rotate or pivot individual LFD screens to create a customized wall design.

Web-based content management server

The MagicInfo Server enables system administrators to remotely publish content, set play schedules, configure settings, monitor display performance, backup and recover content, fix malfunctions and update system software all from a PC or smart phone app*. This can help businesses reduce total cost of ownership by consolidating display monitoring and content management into a single, centralized control interface. With remote device management, administrators can manage detailed settings for video displays simply by connecting to the Premium Server from any PC browser in the network. The server then sends commands to the network-connected LFDs.

* Smartphone application is available only with MagicInfo i Player

Auto-play and local scheduling

Custom content can be conveniently scheduled directly on the LFD or remotely, helping companies save money and resources on content management tasks. With this convenience, users can:

Schedule content that changes in various time increments, such as seconds, minutes, hours or years, using a calendar-like schedule view.
Check the status of a selected schedule

For direct content management, including local scheduling, users can operate the remote controller as an input device. Direct content management also supports internal or USB Auto Play and local scheduling.

System-on-Chip Technology
MagicInfo S can be run off the display's embedded System-on-Chip processor, which comes equipped with a CPU, flash disk memory (FDM) storage, a graphic engine, and double data rate (DDR) memory. This reduces hardware costs for small systems playing complex, memory intensive media by eliminating the need for an additional PC or media player. Additionally, MagicInfo S supports various codecs, so no file conversion is needed.
Plug-and-play functionality
MagicInfo offers a range of content storage and playback options, including internal display memory, set-back box or plug-in module, USB. This flexibility will enable you to tailor your display system to meet your particular needs. Capitalizing on its many playback options, MagicInfo supports Full HD (FHD) resolution video playback at a high frame rate to ensure sharp, true-to-life visuals.
Near-real time integrated data management
The MagicInfo Extended Software Package includes DataLink, which integrates information from a variety of sources, allowing users to automatically load near-real-time content, update pricing and convert database text into icons.
Editions:
Samsung has developed four editions of MagicInfo, each tailored to the needs of different users running different display systems: MagicInfo Lite, MagicInfo Premium S, MagicInfo Premium I, and MagicInfo Videowall.
| | | | |
| --- | --- | --- | --- |
| | MagicInfo i | MagicInfo S | MagicInfo Lite |
| Target | Enterprise | SMB and Large deployment | SOHO,SMB |
| Platform | Windows | SSSP(Samsung Smart Signage Platform) | SSSP(Samsung Smart Signage Platform) |
| Web-Based Management Server | Supported | Supported | Supported |
| Extra SBB | Need | No Needed | No Needed |
| Extended Package | Support(DataLink, Mobile) | Not Supported | Not Supported |
| Template | Supported | Supported | Supported |
MagicInfo Lite

MagicInfo Lite is ideal for standalone devices or smaller networked systems that are used to display pre-built media content.

Comes standard with all SSSP-supported Samsung displays
Plug and play content through the intuitive embedded media player
Play videos (MP4, WMV), images (JPG), PowerPoint, and audio files without requiring external file conversion
Schedule content remotely through a network using MagicInfo Server

MagicInfo Premium S


Optimized for small and medium-sized businesses, the embedded MagicInfo Premium S enables you to create, schedule and play content as well as perform basic network and device management tasks.

Supports integrated system-on-chip operation (no extra SBB required)
'Standalone mode' for operating without web connectivity
'Network mode' for remotely monitoring and controlling displays from a central location through web
Create and schedule content easily and intuitively with MagicInfo Author
Supports various video and audio codecs without requiring an additional external media player
Related Products : PEC, MEC, MDC, UDC, UEC

MagicInfo Premium i

MagicInfo Premium i allows you to perform content creation and system management through an expanded Windows-based version of MagicInfo. When paired with a MagicInfo Server, MagicInfo Premium i supports database integration and mobile management, as well as remote content scheduling and playback.

Manage display system from a remote, centralized location
Monitor devices and mange content via smart phone application
Utilize hierarchical management structure that enables a master manager to monitor and support local centers
Supports database connectivity for dynamic information display at a scheduled time
Display complex content by connecting to LFDs through additional Setback Box (SBB) or Plug-in Module (PIM) hardware

MagicInfo Video Wall

MagicInfo Video Wall facilitates the installation and management of vivid, large-scale, dynamic video wall displays.

Network and synchronize a large number of displays : maximum 16 displays with MagicInfo Video Wall S, maximum 250 displays with MagicInfo Video Wall i
Supports creative video wall layout, including the option to tilt screen orientation and combine displays of different sizes and shapes
Create and display content from various source formats (PC, DVI, etc.)
Register, configure and monitor display units from a remote control center
Pricing Notes:
Customers Please Note: All Samsung MagicInfo licensing is not returnable.
Pricing and product availability subject to change without notice.
Samsung Products
Samsung MagicInfo
Magicboard 3.0 Interactive Whiteboard SW License
#BW-EDS30WWA
List Price:
$846.00
Our Price: $688.00
MagicInfo Data Link 3.0
#BW-MIE30DA
List Price:
$400.00
Our Price: $249.00
MagicInfo Premium Server For S Player 3.0
#BW-MIP30PS
List Price:
$600.00
Our Price: $499.00
MagicInfo Premium Server For I Player 3.0
#BW-MIP30PW
List Price:
$600.00
Our Price: $500.00
MagicInfo Video Wall-S Author License
#BW-MIV20AS
List Price:
$460.00
Our Price: $374.00
MagicInfo Video Wall-2 Author License
#BW-MIV20AW
List Price:
$654.00
Our Price: $532.00
MagicInfo Video Wall-S SVR License
#BW-MIV20SS
List Price:
$460.00
Our Price: $374.00
MagicInfo Video Wall-2 SW Server License
#BW-MIV20SW
List Price:
$654.00
Our Price: $532.00