Samsung SSD 850 EVO mSATA 1TB

Efficient Power Management for All PC Applications.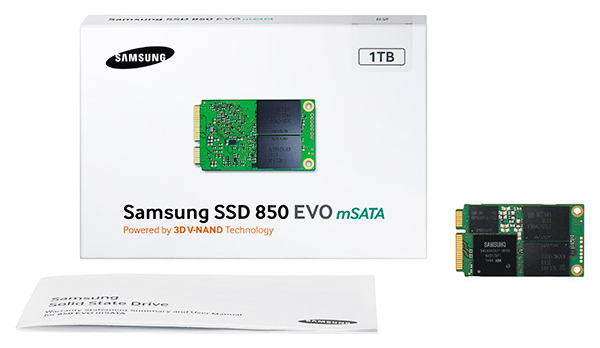 This product is no longer available, please contact us for a replacement.
Overview:
The 850 EVO mSATA is an advanced consumer SSD powered by 3D V-NAND technology. Offering optimized performance, it maximizes computing experiences for everyday business. Plus, a 5-year limited warranty up to 150TBW secures your peace of mind.
Optimized Performance for Everyday Business
Exceptional Endurance and Reliability with a 5-Year Limited Warranty Up to 150TBW
Efficient Power Management for All PC Applications
Features
3D V-NAND Technology
Samsung's 3D V-NAND flash memory helps to overcome the limitations of conventional planar NAND architecture. It stacks 32 cell layers vertically over one another rather than trying to fit itself onto a fixed horizontal space, in order to provide high density and performance with a small footprint.
TurboWrite Technology
Samsung's TurboWrite technology helps to maximize your computing ability. The 850 EVO delivers exceptionally high performance in sequential read (540MB/s) and write (520MB/s) speeds, as well as optimized random performance for high-end computing on client PCs.
Rapid Mode
Samsung's Magician software provides a Rapid Mode for fast processing speeds on a system level by utilizing unused PC memory (DRAM) as cache storage, as well as high performance at various random queue depths.
5-Year Limited Warranty
The 850 EVO offers endurance and reliability with a high TBW (Total Bytes Written), all backed by a 5-year limited warranty up to 150TBW. It also mimimizes performance degradation over time, in order to provide sustained performance for business users.
Long Lasting and Energy Efficient
Enjoy long battery life on your notebook to maximize productivity, thanks to a controller optimized for Samsung's 3D V-NAND technology. The 850 EVO is also highly energy efficient as compared to planar 2D NAND technology.
AES 256-Bit Encryption
Secure data without performance degradation thanks to AES 256-bit encryption that is compliant with TCG/Opal. The 850 EVO is also compatible with Microsoft® e-drive IEEE1667 for extra protection to help secure your peace of mind.
Dynamic Thermal Guard
This constantly monitors and works to maintain ideal temperatures to protect the integrity of your data and safeguard from overheating. When temperatures rise above an optimal threshold, the Dynamic Thermal Guard automatically throttles them down to protect data while maintaining responsiveness.
One-Stop Install Navigator
Our One-Stop Install Navigator software allows you to migrate all the data and applications from your existing primary storage to the 850 EVO in three simple steps. The Samsung Magician software also allows you to optimize and manage your system in a manner that is best suited for the SSD.
Samsung Components
The 850 EVO is built from Samsung Components that are designed and manufactured in-house to allow complete optimized integration. This means high performance, low power consumption and excellent energy-efficiency with the MEX controller.
Specifications:
Samsung SSD 850 EVO mSATA 1TB Specifications
Type
Product Type
mSATA
Interface
SATA 6Gb/s Interface, compatible with SATA 3Gb/s & SATA 1.5Gb/s interface
Application
Consumer
Client PCs
Storage
Capacity
1000 GB (1GB=1 Billionbyte by IDEMA) *
*Actual usable capacity may be less (due to formatting, partitioning, operating system, applications or otherwise)
Features
Sequential Read Speed
Up to 540 MB/sec Sequential Read *
*Performance may vary based on system hardware & configuration
Memory Speed
Samsung 32 layer 3D V-NAND
Samsung 1GB Low Power DDR2 SDRAM
S.M.A.R.T. Support
Yes
Sequential Write Speed
Up to 520 MB/sec Sequential Write *
*Performance may vary based on system hardware & configuration
Controller
Samsung MEX Controller
GC (Garbage Collection)
Auto Garbage Collection Algorithm
Random Read Speed
Random Read (4KB, QD32): Up to 97,000 IOPS Random Read
* Performance may vary based on system hardware & configuration

Random Read (4KB, QD1): Up to 10,000 IOPS Random Read
* Performance may vary based on system hardware & configuration
Trim Support
Yes
WWN Support
World Wide Name supported
Random Write Speed
Random Write (4KB, QD32): Up to 88,000 IOPS Random Write *
*Performance may vary based on system hardware & configuration

Random Write (4KB, QD1): Up to 40,000 IOPS Random Write
* Performance may vary based on system hardware & configuration
AES Encryption
AES 256 bit Encryption (Class 0), TCG/Opal, IEEE1667 (Encrypted drive)
Device Sleep Mode Support
Yes
General
Power Consumption (W)
50 mWatts
* Actual power consumption may vary depending on system hardware & configuration

Average: 4.3 Watts *Maximum: 5.7 Watts (Burst mode)
* Actual power consumption may vary depending on system hardware & configuration
Voltage
5V ± 5% Allowable voltage
Reliability (MTBF)
1.5 Million Hours Reliability (MTBF)
Environmental Specs
Operating Temperature
32ºF - 158ºF
Shock
1,500G & 0.5ms (Half sine)
Form Factor
Product
mSATA
Dimensions (W x H x D)
Product
1.18" x 2" x 0.15"
Weight
Product
0.02 lb.
Software
Management SW
Magician Software
Warranty
Product
5 Years Limited Warranty or 150TBW Limited Warranty