Samsung OM46N - OMN Series 46" Semi-Outdoor Signage

Promote content with exceptional clarity in any storefront window
Samsung Products
Samsung Digital Signage
OM46N - OMN Series 46"Semi-Outdoor Signage
#OM46N
List Price:
$3,779.00
Our Price: $3,019.00
More pricing below, click here!
Overview:
Thoughtful, engaging content in a storefront window has the power to engage customers and ultimately lead them into the store. Samsung's OMN Series displays not only deliver an image with fl awless clarity, but also are designed to maintain its superior picture quality even when exposed to direct sunlight – a common challenge for conventional in-window displays. In addition, with a slim and sleek design, the OMN series is compatible with any window layout and highlights the sophisticated and modern style of the brand. The OMN series also delivers bright and clear images while consuming a low amount of power, which positions businesses to reduce overall costs and optimize effi ciency considerably.
Ultra-high brightness emphasizing content, regardless of the lighting conditions
Slim and contemporary design that seamlessly integrates into any display window
Easy content management with a built-in management solution
Two options – one or double-sided screen – available to fi t the businesses needs
The Samsung OMN series was designed with a storefront window display in mind. It projects clear, bright images that attract and engage audiences, increasing the probability of an in-store visit. With a modern configuration, the display has a slim design and is compatible with any store widow without disrupting a customer's shopping experience. Included in the OMN series is an embedded software solution for operational efficiency and content management, ensuring retailers can manage its displays effortlessly.
Industry Trends
Rich, digital content is the new norm. Static, printed billboards and signs lack the dynamic motion necessary to quickly attract the attention of passersby. As retailers are trying to win the attention of the consumer, it is vital to stand out amongst the competition. That is why a growing trend in the retail industry is the introduction of digital signage into window storefronts. Retail organizations have a very narrow window to impress, so it is critical that a customer's first impression is immediately dazzling. Retailers need digital displays with high visibility and easy-to-manage software to deliver highly impactful content that remains bright and crisp even in the face of direct sunlight – a challenge many stores face.
Storefront optimization with OMN series
The evolution of advertising displays in retailer's windows has dramatically changed over the years, as well as the expectations of the consumers passing by a store. Marketing began with static, printed banners, but quickly moved to digital signage as consumers became more responsive to engaging videos and images. However, early digital signage was not created for outdoor usage or direct sunlight and produced content with low visibility. Retailers then began to incorporate semi-outdoor signage, which allowed for better visibility than the alternatives, but they were still not powerful enough to display high-quality content. Although more cost-efficient than the printed materials, the display did not perform as expected. Realizing the need for more innovative semi-outdoor digital signage, Samsung designed the OMN series. Intended for retailers to deliver the most visually appealing content in any environment, the OMN series surpasses the traditional signage and engages audiences like never before.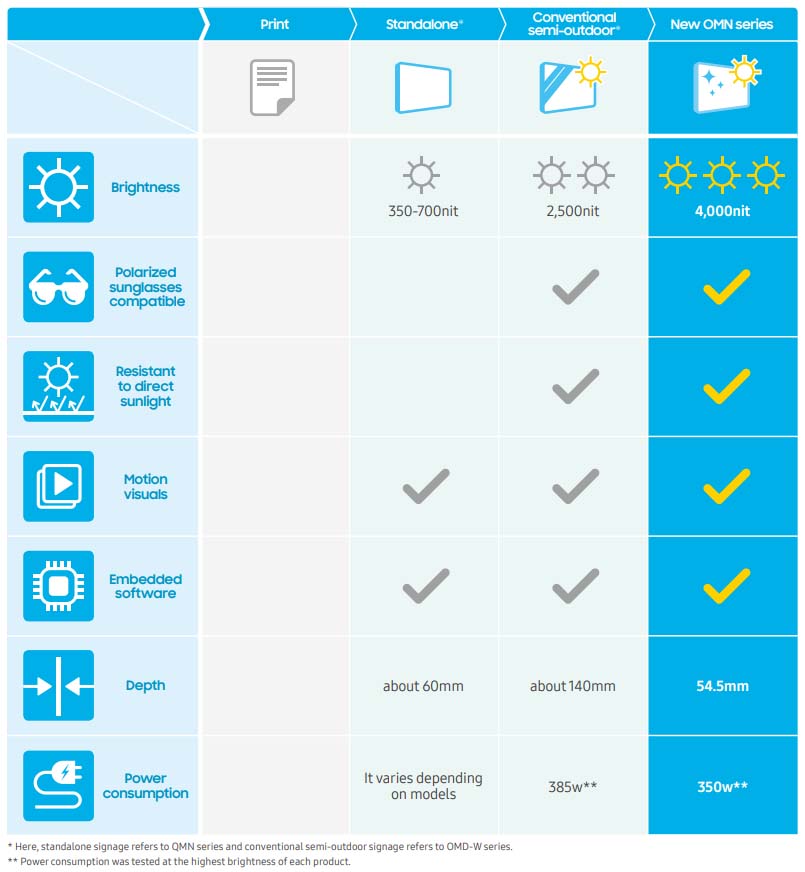 Features: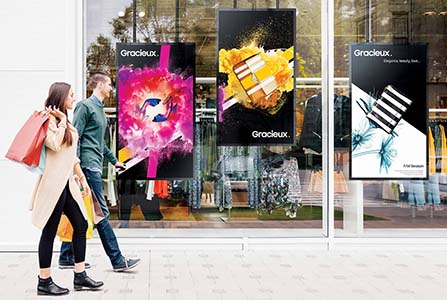 Promote content in any storefront window
Samsung's OMN series was designed with a storefront window display in mind. It projects clear, bright images that attract and engage audiences, increasing the probability of an in-store visit.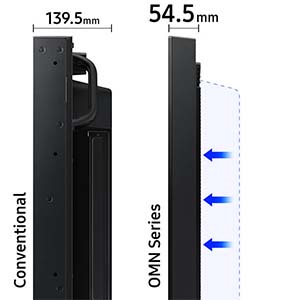 Modernize space with slim design
The OMN Series delivers an immersive content with a remarkably slim 54.5mm depth. Its compact size makes the display a natural extension of the store, as opposed to an addition that ties up valuable space.
---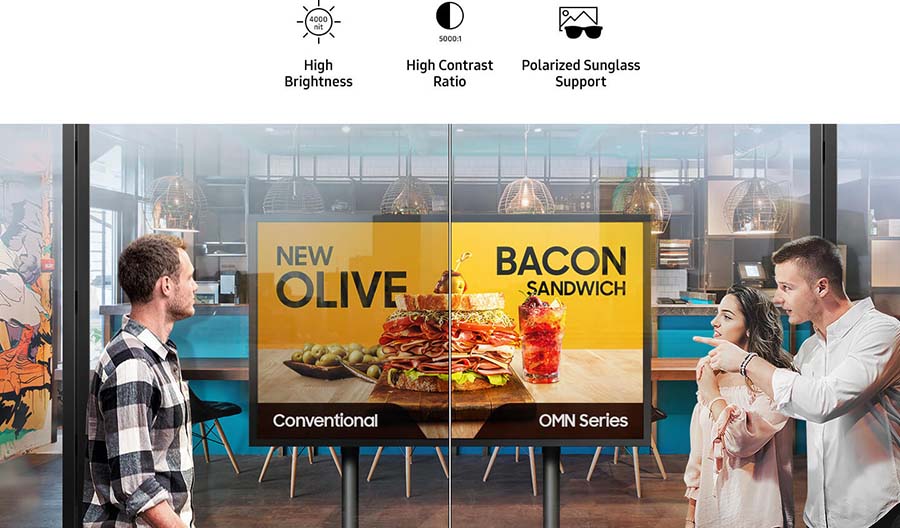 Foster brilliant presentation for all
Featuring 4,000nit brightness and a high contrast ratio of 5,000:1, the OMN Series' display remains bright and clear, delivering an uncompromised picture that will capture the attention of potential customers – even in direct sunlight.
---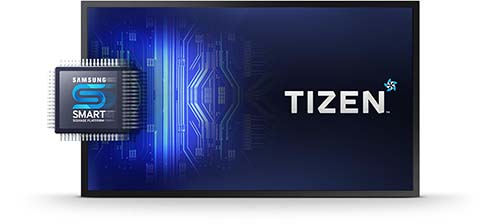 Streamline content management
The OMN Series' embedded MagicINFO Player S6, backed by the powerful TIZEN operating system, boosts the display's overall performance, allowing for easy content management and ensuring seamless content transition and playback.
Deliver vibrant content with efficiency
The OMN Series addresses energy efficiency by consuming less power than conventional displays* while delivering a brilliant picture and spectacular performance. As a result, retailers are equipped with a superior, more engaging display that offers greater control over costs.
* Conventional displays refer to Samsung's OMD-W series.
Specifications:
Samsung OM46N - OMN Series 46" Semi-Outdoor Signage Specifications
Display
Screen Size
46"
Panel Technology
E-LED BLU
Resolution
1920x1080 (Full HD)
Pixel Pitch (mm)
0.530 x 0.530
Active Display Area (mm)
1018.08(H) x 572.67(V)
Brightness (Typ.)
4000 nit
Contrast Ratio
5000:1
Viewing Angle (Horizontal/Vertical)
178° / 178°
Response Time(G-to-G)
6ms
Display Colors
8 bit - 16.7M
Color Gamut
72%
Haze
0%
Display
Dynamic C/R
100,000:1
H-Scanning Frequency
30 ~ 135kHz (DP), 15 ~ 135kHz (HDMI)
V-Scanning Frequency
30 ~ 75Hz (DP), 24 ~ 75Hz (HDMI)
Maximum Pixel Frequency
533.25MHz (DP), 594MHz (HDMI)
Sound
Speaker Type
N/A
Connectivity
Input

RGB: Display Port 1.2 (1)
Video: HDMI 2.0 (2)
HDCP: HDCP 2.2
Audio: N/A
USB: USB 2.0 (1)

Output

RGB: HDMI 2.0
Video: Yes
Audio: Stereo Mini Jack
External Control: RS232C (In/Out), RJ45 (In/Out)
External Sensor: Detachable Type (IR, Ambient)

Power
Type
Internal
Power Supply
AC 100 - 240 V~ (+/- 10 %), 50/60 Hz
Power Consumption

Max[W/h]: 350
Typical[W/h]: 210US/KOR/Etc : 330※ Etc: CHINA, TAIWAN, BRA, CIS
BTU(Max): 1194
Sleep mode: less than 0.5W
Off mode :Less than 0.5W

Mechanical Spec
Product Dimensions
1062 x 616.6 x 54.5 mm
Packaging Dimensions
1189 x 757 x 158 mm
Product Weight
18.2kg
Shipping Weight
23kg
VESA Mount (mm)
400 x 400 mm
Bezel Width
19.9 (even)
Environmental Conditions
Recommended Usage Hours
24/7
Operating Temperature
0℃~ 30℃ (Direct Sunlight) 0℃~ 40℃ (w/o Direct Sunlight)
Operating Humidity
10%~80%
Features
Key Features
High brightness Semi-Outdoor Slim & Clean back designBuilt-in MagicInfo Player S6, SSSP 6.0
Special Features
IP 5X rated, Polarized Sun Glasses Viewable in any direction, Portrait /Landscape Installation Support, Lamp Error Detection, Auto Brightness Control with Ambient Brightness Sensor, Temperature Sensor, RJ45 MDC, Auto Source Switching & Recovery, Clock Battery(80hrs Clock Keeping)
Internal Player

Processor: Cortex A72 1.7GHz Quad-Core CPU
On-Chip Cache Memory: L1 Instruction Cache : 48KB L1 Data Cache : 32KB L2 Cache : 2MB
Clock Speed: 1.7GHz
Main Memory: Interface 2.5GB LPDDR4 1.5GHz 64bit
Graphics: Graphic resolution : 1920x1080 Output resolution : up to 3840x2160 (Scale up from graphic processing result.) - Supports OpenGL ES
Storage (FDM): 8GB (3.88GB Occupied by O/S, 4.12GB Available)
Multimedia: Video Decoder - MPEG-1/2/4, H.263, H.264/AVC, UHD H.264/AVC - VC-1, AVS+, HEVC, JPEG, PNG, VP8, VP9 Audio Decoder - AC3 (DD), MPEG
IO Ports: USB 2.0
Tizen 4.0 (VDLinux)

Certification
Safety
CB (Europe) : IEC60950-1/EN60950-1 UL(USA) : cUL60950-1
EMC
FCC (USA) Part 15, Subpart B Class A CE (Europe) : EN55022:2006+A1:2007 EN55024:1998+A1:2001+A2:2003
Accessories
Included
Quick Setup Guide, Regulatory Guide, Warranty Card, Power Cord, Remote Controller, Batteries, IR, Ambient sensor
Pricing Notes:
Pricing and product availability subject to change without notice.
Samsung Products
Samsung Digital Signage
OM46N - OMN Series 46"Semi-Outdoor Signage
#OM46N
List Price:
$3,779.00
Our Price: $3,019.00